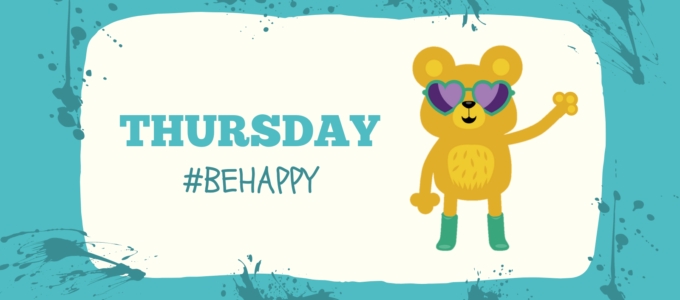 Happiness really is a skill that we can all learn that will last for a lifetime. Being happy is not just about feeling good. Happiness is also about emotional health and wellbeing and being able to make the most of the good times and cope with the bad ones, to experience the best possible life. Oh, and research shows that being happy also makes us healthier.
ACTIVITIES FOR YOU TO TRY
Here are three Thursday #BEHAPPY ideas for you to try during Scottish Children's Health Week.
ACTIVITY 1 | SPEND TIME IN NATURE
Going outside is a great way to be happy. The simple act of going outside and breathing in fresh air is a good way to boost positivity. There are lots of fun things to do outside, like learning the names of plants and bugs, feeding birds and collecting interesting rocks and leaves. If it's sunny you could go to a local park and play on the swings, and if it's raining then you can put on wellies and splash in puddles. If you have a dog, then take them on the walk with you too! If you're not able to go out, bring nature indoors and look after a house plant or draw what's outside your window.
ACTIVITY 2 | LISTEN TO MUSIC
It has been scientifically shown that listening to music can help to boost our moods and make us feel happy. Perhaps it's the combination of beautiful instruments and beats that make us want to dance, but music can have a powerful effect on people. Today, explore some new music that you haven't listened to before by looking for random music and by asking those around you. Who knows, you could find your next favourite song!
ACTIVITY 3 | SOCIALISE
Being with family and friends is incredibly important for our happiness. Spending time with people we care about makes us feel happier and meeting new people helps us to understand others better. Today, spend time with a loved one doing an activity that you really enjoy doing together. Or is there anyone you can think of that you haven't been able to see for a while that you would like to spend time with today? Alternatively, you could spend time with someone new. Is there a person at your school that you would like to get to know, or an elderly neighbour that you could say hello to? Whoever you decide to spend time with today, we hope it makes you both feel happy!
We are delighted to have partnered with RSPB for #BEHAPPY Thursday! RSPB have provided us with the "Upcycling for Nature" activity which you can find out about in the SCHW21 Activity Book!