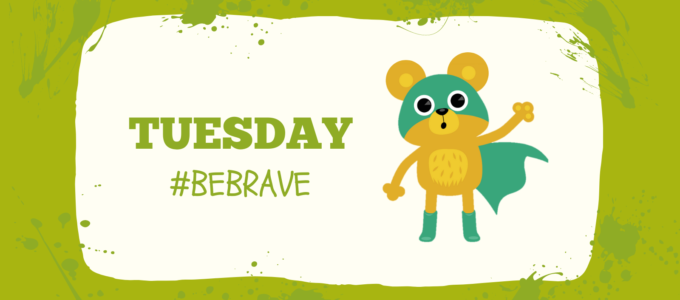 Bravery doesn't mean fearlessness. It means having the courage to try something new or challenging and then celebrating your success. It's about stretching to do things that are outside of your comfort zone and trying to succeed. Children and young people tell us that one of the most important things which improves their mental health and wellbeing is having a hobby/interest which they're good at. Stretching yourself also increases self-esteem and gives a sense of personal achievement.
ACTIVITIES FOR YOU TO TRY
Here are three Tuesday #BEBRAVE ideas for you to try during Scottish Children's Health Week.
ACTIVITY 1 | TRY SOMETHING NEW
Is there something you want to try but you feel too afraid? Maybe you want to go outside and jump in big puddles or try broccoli for the first time. If you have a health condition, then maybe you feel too scared to do these things. However, the thing about fear is, that when you face it, it can go away or become less. Today, push yourself to do something new, no matter how big or small, and then be proud that you were brave enough to do it! Remember, you do not have to do it alone. You can get a parent, carer, friend, or anyone you need to help you. It takes a lot of bravery to ask for help.
ACTIVITY 2 | DO SOMETHING GOOD ENOUGH… AND ENJOY IT
It can be easy to feel like you need to be perfect and be the best at everything. But often, it can be brave to do something you know you are not very good at, but still have fun or learn something along the way. Today, be brave and try to do something you know you have trouble with. It could be drawing a picture and laughing if the result is not what you had hoped for, or baking some cookies and still enjoying the taste (even if they do turn out a little too crispy!). You don't always have to be perfect.
ACTIVITY 3 | LET'S START TALKING
Perhaps one of the bravest things you can do, if you are struggling with a health condition, is to talk about how you feel. Speaking with family and friends about what is going on in your life and what you have to support you, can help you feel better and can build trust with others. Thanks to SeeMe, we have provided an activity on the opposite page that you can try, to be more open with your feelings. We understand that it takes a lot of bravery to talk to others about your feelings and to reach out for help, but at CHS, we have the support and resources for you.
We are delighted to have partnered with SeeMe for #BEBRAVE Tuesday! SeeMe have provided us with the "Let's Start Talking" activity which you can find out about in the SCHW21 Activity Book!