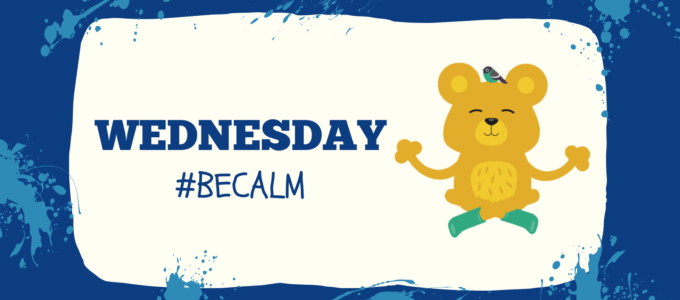 Children and young people can sometimes struggle to regulate emotions. Tantrums, outbursts, whining, defiance, fighting are all behaviours that can be seen when children are experiencing powerful feelings that cannot quite be controlled. Regulating emotions might also be particularly challenging when out of routine or at home for long periods of time. This Wellbeing Wednesday take some time to be calm and focused which is also great for your emotional wellbeing.
ACTIVITIES FOR YOU TO TRY
Here are three Wednesday #BECALM ideas for you to try during Scottish Children's Health Week.
ACTIVITY 1 | MINDFULNESS COLOURING
Mindful colouring is a great way to de-stress and be creative. You can use whichever colours and materials you like, but the important part is that you do it mindfully. Make slow strokes with your pen or move the pencil with the rhythm of your breathing. Use colours that represent how you feel right now in this moment. Pay attention to how the pen feels in your hand and how the colour looks on the page.
ACTIVITY 2 | STAR BREATHING
Star breathing is a mindfulness technique to help you to focus and calm down. It can be tricky to focus on your breathing without getting distracted – even more so for young people – but the visual reference of the five points of a star can make it easier. You can trace the outline of the star with your eyes or using their finger. As you go along, breathe in on one line, keep still as you reach the point, and then breathe out as you go down the next line. Continue until you reach back to where they started. You can also replace the star with your handprint.
ACTIVITY 3 | SELF-CARE
Self-care is an important but easily forgotten activity. It means taking care of and respecting yourself. Self-care can be found in any activity that you enjoy and that makes you feel relaxed. To work out what you can do for self-care, make a list of nice and easy activities that you like to do. It can be anything, and your list might not be the same as someone else's. Write down anything that makes you feel better, and then the next time you feel bad or stressed, try one or two things from this list.
We are delighted to have partnered with RelaxKids for #BECALM Wednesday! RealxKids have provided us with the "Create a Calming Corner" activity which you can find out about in the SCHW21 Activity Book!