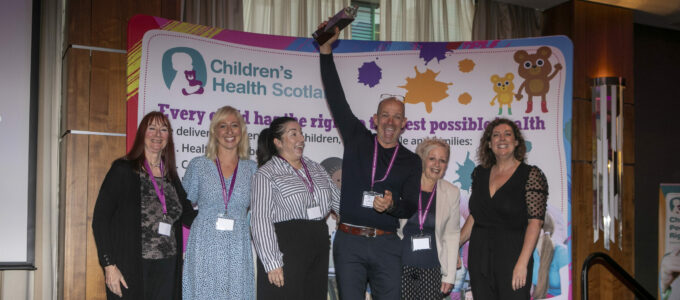 The Lifetime Achievement Award isn't open to public nominations; it's presented to a health professional who, in the opinions of the judges of the Scottish Children's Health Awards, has made outstanding contributions to the health and wellbeing of children and young people. 
The winner of the Lifetime Achievement Award, Iain Horrocks, is insistent that the award be shared with his team. "I was appalled at the idea of me individually deserving it when we truly have a team that is so inclusive that to single out any member for praise above the rest would be unjust," he says magnanimously. 
"Our muscle nurse Jen's motivation and tireless support of the team and all the muscle families throughout Scotland is crazy," he says. "She is always at the end of a phone, contactable anywhere, anytime, to deal with any problem. 
"Marina is a Neuromuscular Consultant Physiotherapist. Her tenure as the first non-medical lead of the Scottish Muscle Network was transitional to the Muscle Services for children in Scotland. Her enthusiasm, work ethic, and approachability really made the Scottish Muscle Network a force and gave us the UK recognition of a muscle Centre of Excellence in the UK." 
Ian and his team help around 450 children, mainly in the west of Scotland, with nerve and muscle disorders. "Before 2018 we didn't have any curative treatments to offer any of our muscle patients, but we dabbled in a bit of International collaborative research – that started in 2014 with our first major trial of FOR DMD (Finding the Optimal Regime of Steroids of Duchenne Muscular Dystrophy patients). At that point we had a skeleton team of Marina, Myself, Jen, Rachel (dietician), Wilma (Family support Nurse) and Sarah and Susanne – other Neuromuscular physios.  
"Our main basis was to diagnose and support families and children with neuromuscular disorders, to give them a voice, to educate them and to be educated in how best to help them. We hosted educational evenings many years ago at Ashcraig school. 
"The opportunity arose to apply for charity funding to be able to expand our team and allow children in Scotland with neuromuscular disorders the same research opportunities as those in England so we took it and managed to secure funding for Tracy, a clinical trials coordinator, and Rebecca to further strengthen the physio team. We also managed to secure funding for Dr Shuko Joseph who was appointed as a Neurology Consultant to work with in the Muscle Service in February this year, she completed a three-year PhD Doctorate on the effects of steroids and Duchenne Muscular Dystrophy and has written seminal papers on the subject." 
It was Jennifer Dunne who brought Iain to the attention of the judges. She said: "Dr Iain Horrocks and his neuromuscular team strive to improve the lives of all children who have a diagnosed and undiagnosed neuromuscular condition. Most neuromuscular conditions have no cure or treatment. Dr Horrocks leads a very small team in conducting clinical trials to find ground-breaking treatments for this patient group. He often spends many hours out with his work, researching new treatments or contacting families for support.  
"Dr Horrocks has led his team to be the first in the UK (out with a trial) to administer Gene therapy for patients with spinal muscular atrophy (SMA) – a life limiting condition. He led ground-breaking new treatment for SMA, to not just one patient but two in Scotland out with their health board area. If patients receive this treatment early enough, then they could potentially lead a normal life. Without it most children will die within the first two years of life. Dr Horrocks and his team go above and beyond for their patient group and give hope to many families who have no cure or treatment for their child's diagnosis." 
Hearing about Iain and his team and everything they do in their job, let alone everything they do beyond that to support and improve the lives of children, greatly impressed the judges. They said: "We are in awe of Iain and his team and the work he leads in Scotland. He gives hope to so many people through his clinical trials to find ground-breaking treatments. His gene therapy for patients with spinal muscular atrophy is just one example and we are honoured to present the Lifetime Achievement Award to Iain and his team.  
Congratulations to Iain Horrocks and the team on the Lifetime Achievement Award.