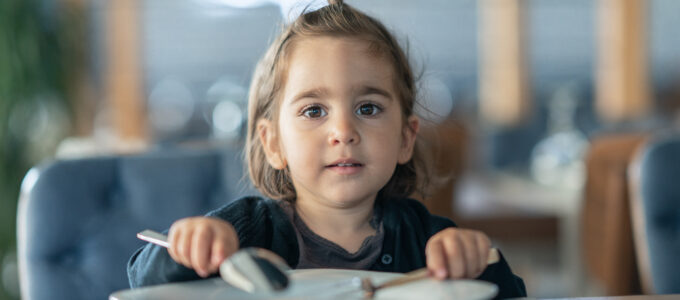 Experiencing food poverty can often involve sacrifice and dietary adjustments. For example, mothers skipping meals so that their children can eat compromises on food quality and variety. It can have a detrimental impact on physical and psychological wellbeing so it's important for everyone to have access to and the choice of an affordable, acceptable and healthy diet throughout their life.
Article 24 of the UNCRC states that healthcare for children and young people should be as good as possible, and also goes further than this by saying children and young people have the right to be both physically and mentally fulfilled. Among other things, this implies that children and young people should have good enough nourishment from their food.
At Children's Health Scotland we want:
Healthy eating information to be provided and promoted for children at home and in school.
Healthy school lunches to be made available for everyone and for children in vulnerable families to be provided with nutritious food appropriate for their age and culture during periods of school closure.
Children in hospital to be provided with nutritious wholesome food, which is appropriate for those with special dietary needs and is attractively presented in an age-appropriate manner.
Marcus Rashford and Tom Kerridge have put together pocket-friendly, easy-peasy recipes for mega-tasty, super-filling, hearty home cooked grub.  You won't need loads of ingredients, equipment or cooking skills and the whole family will be able to cook these simple recipes and they hope we can all get excited about cooking. CLICK HERE to find out more.
Best Start Grant and Best Start Foods are payments that help towards the costs of being pregnant or looking after a child. They're part of the 5 family payments you may be able to get from Social Security Scotland, along with Scottish Child Payment. Best Start Grant is made up of 3 one-off payments:
Pregnancy and Baby Payment
Early Learning Payment
School Age Payment
Best Start Foods is a prepaid card that can be used in shops or online to buy healthy foods like milk or fruit. CLICK HERE to find out more.
Eating well is essential for children in their early years. Published by the Care Inspectorate, Food Matters celebrates the many ways in which early learning and childcare (ELC) settings are supporting children to have positive eating experiences and enjoy well-balanced, nutritious food.
FOOD IN HOSPITALS
In 2015 we produce a report on Food for Children in Hospital.  CLICK HERE to view the report which contains findings of our survey on parents'/carers' experience of mealtimes and the food provided for their children in hospital and our Survey of NHS Boards Dietetic and Catering Leads and CEOs.
We met with Scottish Government officials in 2008 to review the 'Food in Hospitals (Scotland) 2008 Guidance'. Click here for our recommendations on the Revised Guidance.