The Children's Health Scotland Magazine is always full of news from our charity and the work it is doing to help children and young people with health conditions across Scotland. This full colour magazine is published four times a year and contains articles and features which are relevant to all child care and health professionals, parents and carers.
Every issue of the Children's Health Scotland Magazine can be found on this page. If you would like to subscribe to recieve physical copies of our magazine then please email Esther Bates at esther.bates@childrenshealthscotland.org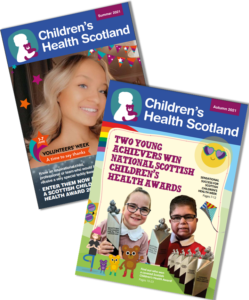 Advertising in CHS Magazine
Businesses and organisations who are interested in health and wellbeing services and news for young people can promote their products and services in the Children's Health Scotland Magazine for as little as £50. Please contact Esther Bates (Marketing and Fundraising Assistant) for more information by emailing esther.bates@childrenshealthscotland.org or calling 07483230577.
View our past magazines below: