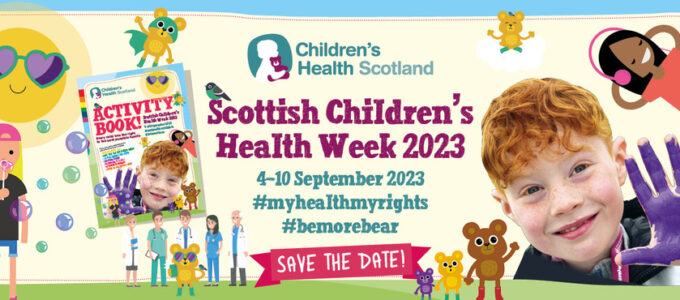 Scottish Children's Health Week (SCHW) has been created to focus on the health and wellbeing of children and young people and their right to the best possible health. This year is no different! SCHW 2023 will be taking place on 4 – 10 September and we have a full week of activities planned so SAVE THE DATE!
Every year, we create an exciting 24 page Activity Book with a whole week's worth of activities for you to join in with. You can email us at enquiries@childrenshealthscotland.org to request printed copies of the Activity Book, or download HERE.
Thank you so much to this year's partner organisations who each contributed an activity to the book: Do Be Mindful, The Fostering Network, Home Link, Children 1st, Place2Be, The LUNA Project, and BBC Children in Need.
#SCHW23 #MyHealthMyRights #BeMoreBear