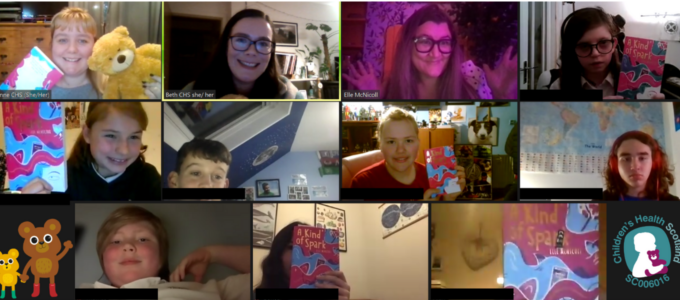 'I read the book twice!' – Katie
'I loved it! It was great hearing about the TV show!' – Sonya
On Monday 14 November, our Hubbers celebrated Book Week Scotland! The wonderful (and best-selling author) Elle McNicoll joined us for an extra special SMS:HUB and talked all about her novel 'A Kind of Spark.' We started off our HUB with a Scavenger Hunt based on the book, where we found things that helped soothe us and things we love talking about just like Addie in the novel!
After a fun filled game, we then gathered and got to ask Elle some of our burning questions.
'What inspired you to write the book?'
She told us the inspiration for writing 'A Kind of Spark' came from her own experiences but she wanted a heroine who was Autistic that got to go on adventures (which we loved).
'Is the book based on real people? Did you live in a small town like Juniper?'
Elle explained that Juniper wasn't real but she did grow up in a small town.
'Was it hard writing about bullying and did you experience bullying yourself?'
Elle also spoke to us about bullying and how we might come across people like Emily and Miss Murphy in our lives and it is good to know we aren't alone and talking about it can help a lot! Which is great advice and a lot of us found it hard to read but comforting to know we aren't alone.
'Why did you pick sharks as Addie's favourite animal? Are Sharks your favourite too?'
Sharks are Elle's favourite animal too and we all talked about how cool they are!
'Do you think we should learn more about why the Witch Trials happened in school and not just about the killing?'
Talking about the women who were called Witches in Scotland as people was very important to Elle. Although Maggie, Mary and Jean weren't real people their stories very much are.
'Do you have more books coming out? When does the TV show come our and where can we watch it?'
Elle does have more books coming out and the TV adaptation of 'A Kind of Spark' will be coming out on the BBC, so keep your eyes peeled!
Thank you, Elle, for a wonderful time! We would also like to thank the Scottish Book Trust for funding this SMS:HUB for Book Week Scotland. Also, a BIG Thank you to The Edinburgh Bookshop for helping us give each of our Hubbers their very own copy of 'A Kind of Spark!'
We can't wait for our Festive HUB in December! We will be making some Festive Crafts and learning all about how to manager the festive period if we find it overwhelming.