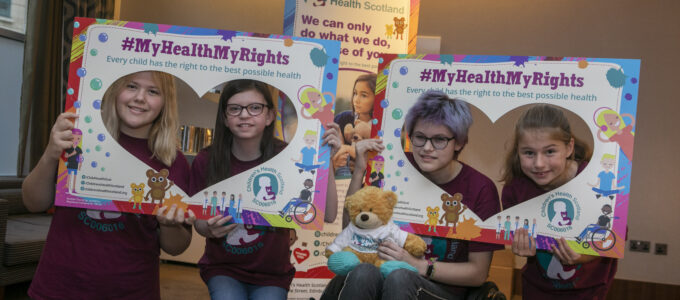 To read the Autumn 2022 CHS Magazine, CLICK HERE.
The bumper Autumn edition of the CHS magazine is now available to view online. The Autumn magazine is packed full of great stories, such as celebrating the seven winners of the Scottish Children's Health Awards 2022 and remembering the fun we all had for Scottish Children's Health Week 2022 and the My Health, My Rights Conference.
Pages 16 to 29 contain the momentous results of the Scottish Children's Health Awards 2022. We received so many amazing entries that it was very difficult for the judging panel to choose the seven winners. Read the full story of each award winner, who were all interviewed by Journalist and TV Presenter Catriona Shearer for this fifteen-page special.
Our third Scottish Children's Health Week took place in September and was a huge success! You can read all about the events and activities of each day in detail in the latest edition of our magazine. Thank you to everyone who helped make the week a success, including our charity partners for each day: PLAY Scotland, Hands On, Relax Kids, ENABLE Scotland, KCASS, Curiosity Collective, and See Me.
The My Health, My Rights Conference took place this year on Friday 9th September, after initially scheduled for 2020. The COVID-19 lockdowns may have slowed us down, but they can't stop us! The conference was such joyful celebration of the progress made in the children's health sector over the past few years, with great emphasis on the rights of children and young people. 200 children, young people, parents, carers, health professionals, organisations and government members joined us for a day of sharing and learning.
Those aren't the only events we have been a part of recently. Young person, Eve, tells us all about her experience attending the RCPCH conference in June with Beth Davidson, our Corporate Services Co-ordinator. We also took two trips to Blaire Drummond Safari Park in the past two month. In July, Beth Davidson visited as part of "Dream Night at the Zoo" with some of the children and young people who attend SMS. In August, Anne Wilson and Sarah Nelson from our Care Experience Children and Young People Service, also went to a big day out to Blair Drummond Safari Park with 112 Kinship Carers arranged by Clackmannanshire Social Work Department.
On pages 6 and 7, Anne Wilson has written an article about the impacts that war can have on the health and wellbeing of children and young people, following the conflict in Ukraine. This informative and thoughtful piece is a worthwhile read.
Finally, we are hosting our Annual General Meeting (AGM) on Zoom on Saturday 15 October 2022 at 11.00am. If you would like to attend our AGM please email events@childrenshealthscotland.org.
To read the Autumn 2022 CHS Magazine, CLICK HERE.