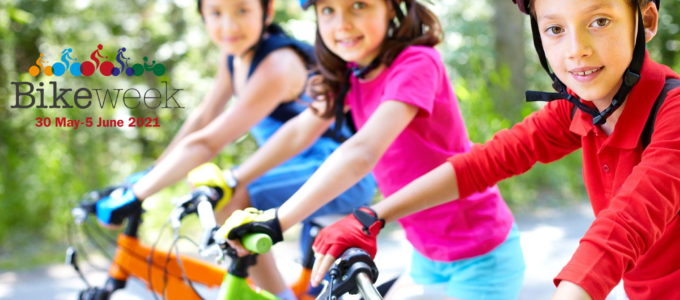 Cycling is the perfect way to enjoy the fresh air and discover the great outdoors and this week is Bike Week(30 May to 5 June 2021), delivered by Cycling UK and World Bicycle Day (3 June 2021). Both are encouraging people across the UK to enjoy the simple pleasure of riding a bike and the theme of Bike Week 2021 is health and wellbeing.
"Cycling is a great way to keep fit and active and also fantastic for your health and wellbeing," said Esther Bates, Marketing and Fundraising Assistant at Children's Health Scotland. "The most important thing is to take part, get on your bike and have fun."
Bike Week is the annual celebration of everything that's wonderful about cycling. It's a time to remind ourselves of all the positives that riding a bike can bring, including our own health and wellbeing, the theme of this year's event. This year Bike Week has created a free resource pack with indoor and outdoor activities you can do as a family. From cooking, to colouring, to bike challenges, it's got it all. The charity has also organised a virtual #7daysofcycling challenge giving you an amazing way to reunite with your friends and family in the outdoors. Be inspired by some exciting challenges and routes.
World Bicycle Day is important because it highlights why cycling is so much fun and a great social activity. And if more people cycle, then it will help reduce global warming and improve the health of the nation – which we think is a win, win situation.
At Children's Health Scotland our work is focused on the health and wellbeing of children and young people and we think that cycling is a fun activity with heaps of benefits.  If you can't ride a bike, then don't let that stop you from being active today. Walking and other forms of movement are a great way to improve your physical and mental wellbeing.
For more information on health and wellbeing children and young people, visit https://www.childrenshealthscotland.org/resources/