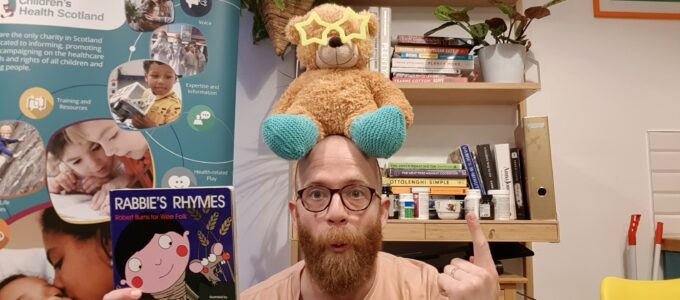 Today we are joined by Children's Health Scotland's Ambassador, Rory Crawford, for another #StoryWithRory! In celebration of Burns Night, Rory is reading 'Rabbie's Rhymes' from publishers Itchy Coo Books; an illustrated children's book with verses from some of Robert Burns' most loved poems.
Rory provides an excellent introduction to this brilliant collection:
These are little snippets of rhymes and songs that Rabbie, or others, wrote, and that he famously performed, wrote down or adapted himself…He wrote, and probably spoke, in Scots – which is similar to English but not exactly the same – so some of the words that you hear in these poems might be a wee bit different from what you're used to!
Burns Night is a celebration of the life and work of Robert Burns, Scotland's most famous poet, who was born on 25th January 1759 in Alloway. He wrote hundreds of poems, songs and letters which are excellently presented in this story with illustrations by Karen Sutherland.
We are delighted to continue our #StoryWithRory series of videos as reading, and listening to stories, is a great health and wellbeing activity – especially reading with others. How about encouraging younger children to write their own poem or draw their own pictures to celebrate Burns Night? For older children and young people reading together is a great way to create bonds with friends, which is particularly important throughout this COVID-19 lockdown.
Burns Night is typically celebrated with a traditional meal of Scottish haggis, served up with mashed turnips (called "neeps") and potatoes (called "tatties"), which are traditionally mashed too. Haggis is a bit like spicy mince, made with bits of meat that you might not normally eat, like sheep's intestines! It also has onion, stock, and other things in it too. There are also traditional puddings such as shortbread, or a creamy dessert called cranachan. This Burns Night why not try cooking a Burns Meal together?  Remember cooking is a life skill and is great for your health and wellbeing – and everything is better when done together.
A huge thank you to Rory and Itchy Coo Books for this reading, and we hope everyone has a wonderful and safe Burns Night!