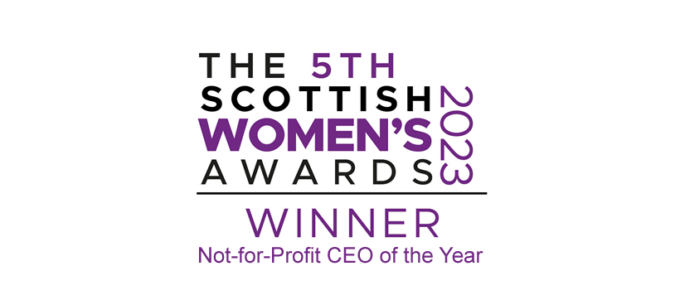 The 5th Scottish Women's Awards celebrate remarkable women for their excellence and we are proud to announce that our Chief Executive, Helen Forrest, has been presented with the award for Not-for-Profit CEO of the year.
The awards ceremony, held on Saturday 16 September at the exquisite Glasgow Marriott Hotel, was a momentous occasion filled with inspiration and pride as women from diverse backgrounds were acknowledged for their exceptional accomplishments.
The Scottish Women's Awards have been created to shine a spotlight on the outstanding achievements and contributions of women from various fields across Scotland. This prestigious event, organised annually, continues to be a platform for recognising and celebrating the remarkable women who are redefining excellence in their respective domains. The event was attended by distinguished guests, including prominent figures from various industries, who gathered to celebrate the achievements of these exceptional women and to encourage others to follow their lead. The 2023 winners have all demonstrated resilience, determination, and innovation, setting inspiring examples for future generations.
Our Chief Executive, Helen Forrest, was one of the finalists in the Not-for-Profit CEO of the Year category and, following fierce competition within this category, was awarded the trophy on the evening. On receiving the award, she said:
The shortlist for the Not-for-Profit CEO of the Year category listed incredible women who have clearly demonstrated exceptional dedication, innovation, and leadership in their fields. These women showcased the diversity and strength of talent present in our sector, so I feel that it is a real honour to have won this award. I do love my role at Children's Health Scotland, and I am so proud of all the staff who work tirelessly to support children and young people, particularly those with long-term health conditions. Together I know we make a difference so I would like to thank the 5th Scottish Women's Awards for recognising the work I do with the whole team at Children's Health Scotland to improve the health and wellbeing of children and young people and their right to the best possible health.
A Spokesperson for The 5th Scottish Women's Awards 2023 said:
The Scottish Women's Awards 2023 has showcased the extraordinary talents and achievements of these women, highlighting their significant contributions to society. These winners represent not only excellence in their respective fields but also the qualities of determination, resilience, and a commitment to making a positive difference in the world. We would like to congratulate all winners and nominees for their amazing achievements, and we hope their success stories will inspire others to reach for excellence.