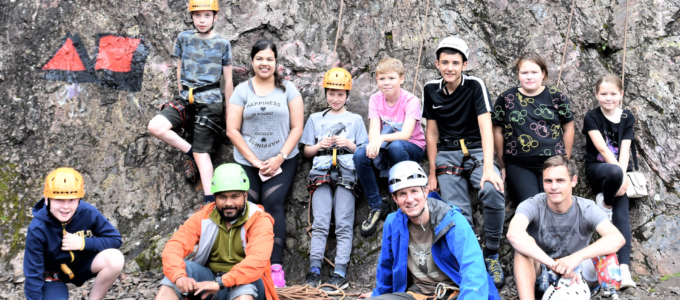 Our Children and Young People's Self-Management Service is among 49 projects announced today which are sharing over £5 million of National Lottery funding. All of the projects announced will improve people's health and wellbeing and help communities to thrive.
Click here to see a full list of awards
Commenting on the award Helen Forrest, Chief Executive of Children's Health Scotland said: "We would like to say a huge thank you to the National Lottery, who today announced their support of our Edinburgh and Lothians Self-Management Programme. Since 2015, this programme has successfully supported children and young people with long-term health conditions to cope better with their illnesses.
"The impact of chronic illness on a child can be severe. They are at risk from social isolation, difficulty in making friends, poor mental health and wellbeing and poor educational and career outcomes due to missing school. Some may find it difficult to be open about their illness with peers, health professionals and teachers. Many are bullied for being 'different', for example taking medication or because they cannot take part in the same physical activities as their peers.
"Through research and evaluation, we know we have successfully delivered our Self-Management Service to children and young people over the past five years.  We are proud to have made a difference to their lives, but we haven't achieved this alone. We need funding and today the National Lottery award, together with other much needed grant donations, means we are able to continue to deliver our service within Edinburgh and the Lothians which is such great news."
Announcing today's funding totalling, £5,602,381, The National Lottery Community Fund Scotland Director, Neil Ritch, said: "It's thanks to the generosity of National Lottery players that we are today announcing over £5 million to 49 life-changing projects across Scotland. This funding will make a real difference to people's health and wellbeing.
"I am delighted that Children's Health Scotland has secured a grant from The National Lottery Community Fund. This award will make a real difference where it is needed most, and I wish Children's Health Scotland every success delivering a great project for their community.
Last year The National Lottery Community Fund gave out over £36m of National Lottery funding to community projects across Scotland. Over 1,291 projects benefited from this, enabling people and communities to bring their ideas to life. To find out more visit www.TNLCommunityFund.org.uk