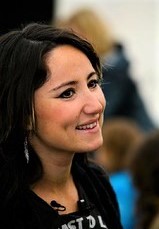 Ahead of Volunteers' Week 2019 (1-7 June 2019), Children's Health Scotland is proud to welcome the award-winning singer and songwriter KT Tunstall as their new Patron.
As Patron, KT will support the work of Children's Health Scotland whilst helping to raise the profile of the Scottish based charity and its mission which is to enable every child and young person to exercise their rights to healthcare and to have these rights upheld, and their healthcare needs met, in partnership with their parents, carers and professionals.
KT Tunstall said: "I was adopted as a child and my brother Daniel is deaf, so I have total admiration and an affiliation with the work of Children's Health Scotland. I know the importance of the services they provide and also the many challenges they face.
"I am extremely impressed at the way they work with children and young people to support their mental health and reduce the anxiety they may face with any medical or dental treatment or being admitted to hospital.  Many of these children are looked after or have additional support needs associated with long-term medical conditions which is why I'm right behind their national work.
"I'm so excited to support Children's Health Scotland, bringing the benefits of my experience and my international profile to this role so that the charity can successfully continue to provide support to vulnerable children and young people. I am honoured to become their Patron."
Commenting on the announcement Professor Richard Olver, Chair of Children's Health Scotland said: "We can only continue to exist and provide our services in the community because of the support of donors and volunteers. It's great to have the support of an award-winning singer-song writer like KT is and on behalf of everyone who works for Children's Health Scotland and the children, young people and families who use our services, I would like to say a huge thank you for her support and patronage. I know that she will be a fantastic Patron for our charity, and we look forward to a long and productive working relationship."
Children's Health Scotland is the only national charity that works to promote the healthcare needs and rights of children and young people.  It is the national voice for children's health, championing their healthcare needs and working to ensure they are met throughout Scotland. It supports children and young people, some with a range of mental health or chronic conditions, to develop skills and strategies to self-manage their conditions.  The charity also focuses on the healthcare needs of looked after children and young people and those who are 'hard to reach', ensuring they are represented.