Young person, Eve Mclaren, who has taken part in our Self-Management Service Programmes, SMS: F2F and SMS: CONNECT, travelled down to Liverpool with Children's Hea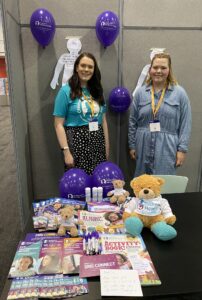 lth and Wellbeing Services Coordinator, Beth Davidson. Eve and Bruce joined the session 'Children's Rights and Paediatrics: On the Sofa with RCPCH & Us' alongside all of the other UK's children's commissioners, asking some powerful and important questions, sharing the work of Children's Health Scotland, and discussing the importance of collaboration and innovation.
Eve spoke about her experiences as a young person with autism and her emotional support dogs, Bear and Odie, who help her at appointments and groups. Eve competes in dog agility and Hoopers with her dream being to one day compete in Crufts or Par Agility in Spain. Eve recently helped to make an autism awareness film with the disability group that she attends, to raise awareness for autism education and acceptance.
Eve's wrote six powerful and important questions that she wanted the audience to think about:
1: On average as an Autistic person, I will live 16 years less than a non-Autistic person and 30 years if I had a learning disability, like my brother. What can you do to make sure we live longer?
2: 70 percent of people with Autism have mental health conditions or anxiety. 66 percent of adults with Autism have considered suicide, what are you doing to help reduce these statistics and support people with Autism with their mental health?
3: Only 23 percent of people with Autism are in employment, I hope to be one of those 23 percent, surely something needs to be done to help people with Autism have the same rights as non-autistic people?
4: Why do we not have Autism nurses to support people like myself in the NHS? What will you do to ensure that I am supported with my Autism when accessing your services?
5: 42 percent of people with Autism feel they are not listened to or taken seriously by their health care practitioner, and many professionals have inadequate knowledge of Autism. How will you ensure that health care professionals are given the adequate knowledge and skills to give each Autistic person the care they deserve?
6: 69 percent of people with Autism have been bullied, this is just the ones we know about. How can we make schools and workplaces more tolerant and ensure they understand the importance of accepting every person with a disability?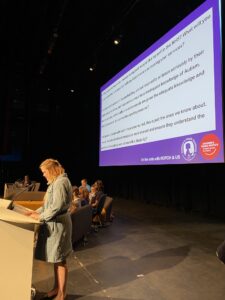 It was a huge honour to attend the event on behalf of Scotland. Afterwards, Eve received a special mention from the President of the RCPCH, Dr Camilla Kingdon, as one of her top highlights for the entire three-day conference!
Speaking about the event, Eve said "I was scared but felt this is something very important to me and I hope to continue making people more aware and accepting of all disabilities, including autism. I recently helped make an autism film, called Autism: My super power and me in the Scottish Borders in the hope to help other children understand autism and for other children with autism to understand it is part of you and you are amazing."
It was a fantastic session, putting the important voices of children and young people at the forefront of children's health, with young people from all 4 nations sharing their stories. The Children's Commissioner for England, Dame Rachel de Souza with young people, Bethan and Rebekah from their youth advisory project, shared their research into mental health and eating disorders for young people. Next, The Northern Ireland Commissioner for Children and Young People, Koulla Yiasouma and young person Emma, spoke openly on her personal experience of the health care system and waiting lists. Finally, The Children's Commissioner for Wales, Rocio Cifuentes spoke with young people Sawdah and Carys from Swansea BAYouth on health inequalities as a result of the COVID-19 pandemic.
Chaired by Dr Mo Akindolie, the session then followed up with questions on child and youth friendly health services and how to access the right support in the right way. A huge thank you to everyone involved and well done to the amazing young people for inspiring and influencing the work that we do each day to meet children's healthcare needs and rights across Scotland – you are amazing!