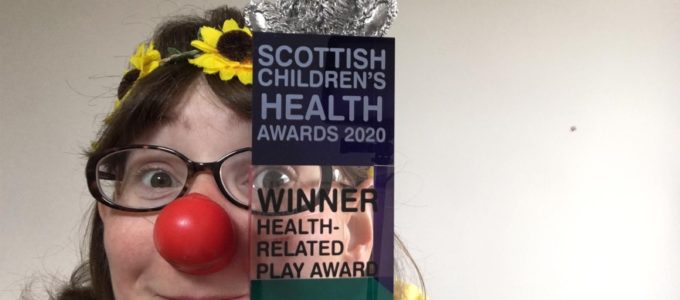 They say laughter is the best medicine and Hearts and Minds' Clowndoctors and Elderflowers are dispensing it generously. These professional creative artists are helping bring joy and laughter to children in hospital, hospice care and Special Educational Need Schools – and to adults living with dementia in residential care across Scotland. They are worthy winners of a Scottish Children's Health Award, winning the Health-Related play category.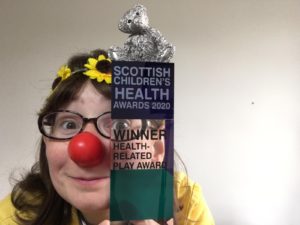 It's more than just a chance to have fun – this type of play helps physically, mentally and emotionally and speeds-up recovery both in hospital and at home. Meaningful human connection is vital for wellbeing, which is why, through connecting to people's humanity, the team can transform experiences of adversity to ones filled with lightness and joy. And it's this empathy and kindness which has scooped The Clowndoctors and Elderflowers the Health-Related Play Award.
The team usually visits around 17 locations across Scotland every week working in close collaboration with healthcare and educational staff. But the Coronavirus Pandemic meant they had to find other ways of connecting with children and benefitting people living with dementia.
Ladies and Gentlemen, behold the 'Clowndoctor on Call' – a digital service to engage with those who need human connection the most – those who, due to their conditions and COVID-19, can no longer access their normal services. Prepare to be amazed as these madcap merrymakers turn a practise that was delivered in the same room as the child, adult or family into one that is delivered virtually and beamed into living rooms in the space of one week.  But these virtual visits, which stay true to the artistic quality of clowning, were a completely new way of working for the team and are in now in high demand.
It's this creativity, adaptability and kindness that led to Hearts and Minds' CEO Rebecca Simpson nominating these freelance artists for the Health-Related Play Award. "They are artistic wonders and amaze me. They dived in and created something quite spectacular. I am absolutely delighted that Hearts and Minds' Clowndoctors have won. It's such an honour."
The judging panel acknowledged the work is highly skilled and were impressed with the feedback from parents whose children have had virtual visits. Their tributes are testament to the impact it has: "You all do a fantastic job in lifting the spirits of children and families who are facing very challenging times in their lives."
"You have always been in need to brighten up these wee souls' lives – and probably now more than ever!"
"Thank you so very much for the amazing video! Charlotte was so excited with it and can't stop talking about it. You left a very, very positive mark on her. Thank you all for what you do – it's made us smile as well as her."
It's clear the Clowndoctors and Elderflowers are in high demand – so Roll Up, Roll Up and join the physically-distanced queue to learn more, or check them out online at www.heartsminds.org.uk
Congratulations Clowndoctors and Elderflowers on your Health-Related Play Award.