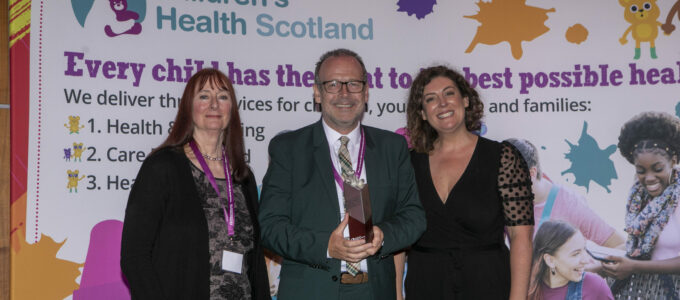 The Children's Choice Award gives the opportunity for a young person to say "thank you" to someone special in their life; someone who has made a difference to their world. Dennis Hopkins, Headteacher at St Bridget's Primary School in Kilbirnie, is this year's winner after a pupil, undergoing cancer treatment, nominated him. 
"I was completely taken aback," says Dennis. "I can't believe this wee one's mum has found the time to write an award nomination with everything they're going through. If anyone deserves an award, it's these two." The boy who nominated him, a pupil at Mr Hopkins' school, had been undergoing treatment for cancer last year. 
The treatment meant he missed lots of lessons throughout the school term, but, determined to ensure he felt included, Dennis would pick the little boy up from home and take him to school – even if just for half an hour – to ensure he was seeing his school friends and participating in the school community.  
Dennis says, "when he was well and feeling up to it, we would bring him in to school. It was lovely – he even came on the summer school trip. We want him to feel very much part of that class – and involved in everything they're doing. It's all about inclusion and we are all there for him; for any purpose at all.  
Ensuring every child, regardless of their circumstances, gets full unhindered access to school is something Dennis feels very passionate about. "The idea of ensuring that every child has the best outcomes delivered to them is the most fulfilling part of my job. And also that children are happy and want to come to school." 
The judges of the Scottish Children's Health Awards were impressed by the Head Teacher's actions. With so many other pupils to care for, making such an effort to help and include this little boy led to them picking Mr Hopkins for the award. He is, however, adamant that it's not an individual award and is keen to stress he's receiving it on behalf of the whole school; for all his team. "I believe this is a whole school award – we're all doing our best to support this little one while he's going through treatment. I want it to be for the whole team. I feel as though what we did here was hopefully what every school would do. 
"The number of people who ask after him and enquire about him on a daily basis is incredible. It's not just the academic aspect; we're not worried about that part. It's the social aspect. What we want is for him to feel supported by the whole school. I hope he does feel that; I think he does."  
And the fact that this boy nominated Mr Hopkins makes us sure he feels that too. 
Congratulations to Dennis Hopkins and all at St Bridget's School, Kilbirnie, on winning the Children's Choice Award.