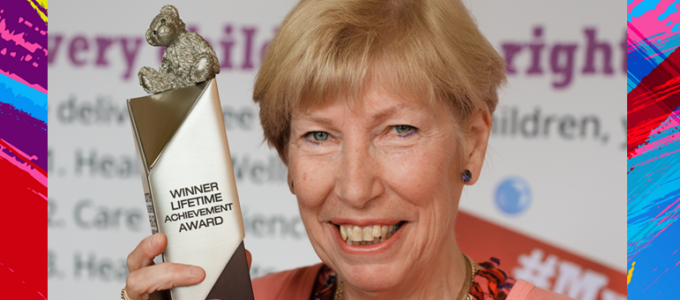 The Lifetime Achievement Award is presented to a health professional who has made outstanding contributions to the health and wellbeing of children and young people during their working life. Our winner is Dr Patricia Jackson who is pictured receiving her award at the recent Scottish Children's Health Awards 2023.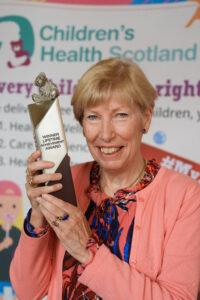 A neurodevelopmental paediatrician by training, Dr Jackson worked as a Consultant Community Paediatrician in NHS Lothian. She Chaired the SIGN (Scottish Intercollegiate Guideline Network) National Clinical Guideline on the diagnosis and management of Fetal Alcohol Spectrum Disorder (FASD) and is the recent Past President of the Scottish Paediatric Society.
Despite having now retired from the NHS, she continues to be active in a variety of children's health issues and causes, and remains one of Scotland's leading experts on FASD. Having had recent experience of working with young people diagnosed with FASD, Dr Jackson says it has been a positive experience for them to understand why their brain works the way it does. "They're able to identify with others who have a similar health issue and can speak about how they continue to address and overcome their challenges.
"I am delighted that my work – alongside many exceptional colleagues – has begun to shine a light on this important area of practice."
Dr Jackson is also passionate about increasing opportunities for neurodivergent children. She was involved in the original Additional Support Needs legislation development and continues to take a keen interest in its impact on improving the experience of those with learning disabilities and their families.
"Early in my career I realised that support to children and young people with neurodiverse conditions and their families was something that could not be adequately done by the health service in isolation," she says. This led her to set up the National Network for Children and Young people with Exceptional Healthcare Needs (The CEN National Care Network). She's also a founder member of CHAS (Children's Hospices Across Scotland), Trustee and long-time supporter of 'The Yard', Vice Chair of Down Syndrome Scotland and Vice Chair of Cattanach, which funds projects in Scotland that support children – among several others.
Dr Jackson says it's clear that collaborative working across all services and keeping the child, young person and their family central to decision making creates a much better service. "It's a much more satisfying and helpful way to work, both for the individual and the professional involved."
The vast range of organisations Dr Jackson is involved in demonstrates her commitment to collaborative working and she's keen to acknowledge her colleagues. "This award is also in recognition of the huge number of people who have been my mentors and influencers throughout my career. Too numerous to individually mention, but I hope they all 'know who they are' and how much I have appreciated their support and advice."
She was nominated for the Lifetime Achievement Award by Dr Jonathan Sher, because, "she is an enormously knowledgeable, talented and dedicated paediatrician who has always placed the health, wellbeing, rights and best interests of children and young people first and foremost.
"And yet, she is a remarkably humble, gracious, kind and selfless person who prefers making a big difference in the background, rather than striving to be in the limelight."
On choosing their winners the judges said:
We were particularly impressed with Patricia's work in Fetal Alcohol Spectrum Disorders. She has also been a great leader throughout her career as a consultant community paediatrician and academic involved in neurodevelopmental care. Patricia has supported the rights of children with disabilities both in clinical practice and beyond this to the holistic care of children and families through her work with the Down's Syndrome Association and her research at the University of Edinburgh. In retirement Dr Jackson continues her high profile as President of the Scottish Paediatric Society and a respected teacher of medical and other health professional trainees and a charity Trustee.
Congratulations to Dr Patricia Jackson on winning the Lifetime Achievement Award.