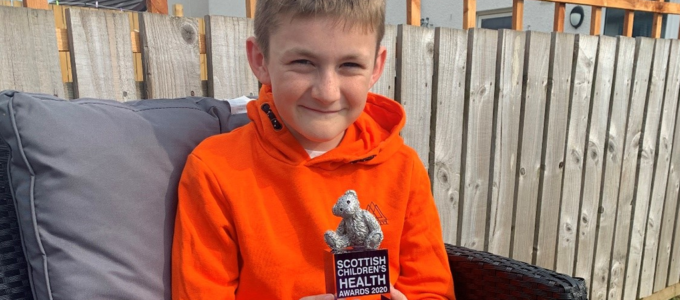 Today we are pleased to announce East Lothian lad Jack Tait as a winner of a national Scottish Children's Health Award. Jack is a joint winner of the Young Achiever Award and his story is captured below by journalist and TV Presenter Catriona Shearer.
The Scottish Children's Health Awards have been created to celebrate courageous children and those who are making a difference to the health and wellbeing of children and young people in Scotland.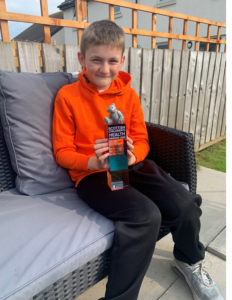 Jack loves playing football and is the goalkeeper for his local team Lothian Colts, so it's fair to say the Young Achiever Award is in safe hands.
The nine-year-old, who lives in Macmerry with his mum, dad, sister and Skittles the cat, has been attending an asthma clinic since early childhood. He's had multiple hospital admissions and endured lots of tests and procedures, meaning he's missed out on a lot of school time and playing with his friends. Despite this, Jack "continues to have a positive outlook on life and thinks of others before himself", says Ann McMurray, his asthma nurse specialist at NHS Lothian.
It was Ann who nominated Jack for the Young Achiever Award saying he rarely complains about taking medications, having physiotherapy or having invasive tests. "Jack has found ways of coping with his health conditions and writes stories to convey how he's feeling. He always puts on a brave face", she says.
The Macmerry Primary School pupil is a dedicated supporter of the Edinburgh Children's Hospital Charity and has helped to raise hundreds of pounds through sponsored events. Jack's tendency to think of others before himself and his enthusiasm in raising money for the hospital impressed the Scottish Children's Health Awards judging panel. They chose Jack as joint winner of the Young Achiever Award, which acknowledges a child who has shown great determination and courage in their life and who has gone above and beyond. Ann thinks Jack more than fits the bill and sees him as their "wee super hero."
The feeling is definitely mutual. "I met Ann through going to the hospital when I'd been poorly and having my check-ups", says Jack. "I really like her, she's a kind and helpful lady, who will always be there for me."
Like many soon-to-be-ten-year-olds, Jack's into football and playing his PlayStation, but was delighted at a gift from kind-hearted Ann. "She once got me a teddy and it had my name on it," he remembers fondly. But it's clear that nominating Jack for this award has made an even bigger impact on the youngster. "I didn't know I'd even been nominated until my mum told me that I had won! I was happy, surprised and shocked as I wasn't expecting it." Jack's mum Kayleigh was delighted to break the news and said she knew how excited he'd be. "I was over the moon for him, Jack is my hero. He goes through his little life with such courage."
It's back to school now for Jack after a lengthy summer. He's moving up into Primary 6 and is looking forward to it. "I can't wait to go back as we've been off for so long", he says. It's been a strange time for everyone during the pandemic – and children up and down the country have coped admirably, but not many will be able to return to school having picked up an accolade. "The award means a lot to me, and I can't believe I won. So thank you!"
Congratulations Jack – and good luck for the future.