Welcome to Day 14 of Bear's Advent Calendar! Are you ready to #ShareWithBear?
For Day 14, Bear wanted to share with you a part of SMS:CONNECT called Digital Stories!
On SMS:CONNECT we will help children and young people to create a Digital Story. This can be about something that is important to you, like a pet, a hobbie, a holiday, or your health condition. It can be about anything you want it to be!
We will work through your Digital Story together, over the six week Programme, and if you'd like to, you can share it in our final session with the group. Your Digital Story might look like a film, a collage, a photograph, a drawing, or a PowerPoint. We will help you to learn new skills!
Bear wanted to say: "I have loved watching all of your Digital Stories and learnt so much! Atlas was very excited to learn all about your Digital Stories too!"
You can learn more about SMS:CONNECT and watch our testimonials from children and young people who have taken part in the programme! Get in touch at sms@childrenshealthscotland.org
Let us know on Facebook and Twitter what story you would like to tell from 2022! #ShareWithBear
Please donate to the #ShareWithBear Campaign below. If you can share a little with Bear this December, then we can share a lot with children and young people in 2023!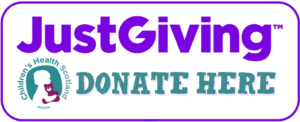 Come back tomorrow for Day 15 of our advent calendar to see what else Bear and Children's Health Scotland got up to in 2022!