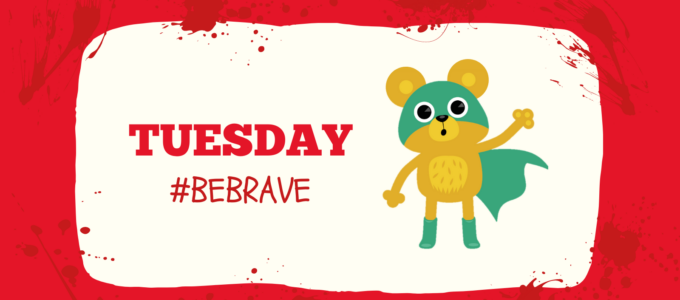 Being brave doesn't always feel like being brave. It can feel like having a funny tummy, feeling hot or having lots of thoughts and questions running through your head. However, if you stretch yourself and do something that makes you feel uncomfortable you can feel proud and happy, and it can increase your confidence. When we are brave, we can try new things, meet new people and best of all, have fun! All these things can give our mental health and wellbeing a boost. So why not try and be brave today?
ACTIVITIES FOR YOU TO TRY
Here are three Tuesday #BEBRAVE ideas for you to try during Scottish Children's Health Week.
ACTIVITY 1 | DRAW A BRAVE CARTOON CHARACTER
Start by thinking about a list of things you think about when you think about someone who is brave – strong, asking for help, trying new things. Now draw a brave cartoon character. What do they look like? What are they wearing? What qualities do they have? Do they have a motto, like "Take a chance!", "I can do it!", or "Never give up!"? Can you try and be more like your cartoon character? Maybe contact a friend who you haven't spoken to for a while, try a new food or join a new activity. Be Brave!
ACTIVITY 2 | BE INSPIRED BY OTHER'S BRAVERY
Bravery might come in the form of dealing with or overcoming physical or mental challenges. Why not think about some famous people that have faced or overcome challenges or obstacles. Go online and find out more about them and what their challenges were and what they did to overcome them. Being inspired by others can help us think about new possibilities. It can create a "can do" attitude. It makes us think "if they can do it, I can do it too" This can help us feel good about ourselves. Why not try to do something you might have struggled with in the past. You can do it!
ACTIVITY 3 | ASK FOR HELP
Sometimes the bravest thing you can do is ask for help. It can be hard to ask someone for help or talk about how you are feeling, but don't keep it to yourself. Speaking to family and friends about it can help you to feel better and grow braver.
We are delighted to have partnered with Hands On for #BEBRAVE Tuesday! Hands On have provided us with the "Grow Your Own Confidence Tree" activity which you can find out about in the SCHW 2022 Activity Book!