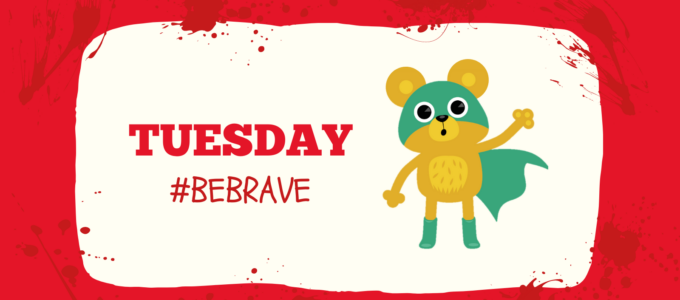 We have made a week full of colourful fun activities for you to download above. Email enquiries@childrenshealthscotland.org about recieving printed copies of the magazine. You can find an easy read version below.
Being brave doesn't always feel like being brave. If you stretch yourself and do something that makes you feel uncomfortable, it can increase your confidence and make you feel proud. When we are brave, we can try new things, meet new people and best of all, have fun! All these things can give our mental health and wellbeing a boost. So why not try and #BeBrave today?
ACTIVITIES FOR YOU TO TRY
Here are three Tuesday #BEBRAVE ideas for you to try during Scottish Children's Health Week.
ACTIVITY 1 | Draw a Comic about a problem and how you dealt with it
Have you ever had a problem or worry and not known what to do about it? Why not be the hero of your own story by drawing yourself as the main character who needs to save the day! Did you need to do a chore, find a lost item, or plan something new? Did you need help from someone on a specific item? Draw those too! If you are currently facing a problem, then you could draw a comic to work out how to deal with it.
ACTIVITY 2 | Ask your loved ones what "Being Brave" means to them
We all have fears and difficulties in life, no matter what age we are. You aren't alone if there is something that scares or worries you right now, so speak to the people around you to find out what they have to say. Talk to family, friends and teachers about their fears, what bravery means to them, and times they needed to #BeBrave. The responses will be interesting, and you might have fun, or want to write an article for your school newspaper about it.
ACTIVITY 3 | Name your fear… and face it!
Everyone fears something, and that's perfectly normal. What are you afraid of? Maybe you are scared of dogs, bugs, certain foods, the dark, being alone, or something else entirely. With a friend or family member, discuss one of your fears each and then work together to face them!
We are delighted to have partnered with The Fostering Network for #BEBRAVE Tuesday! They have provided us with the "Self-Esteem Shield" activity which you can find out about in the SCHW 2023 Activity Book!