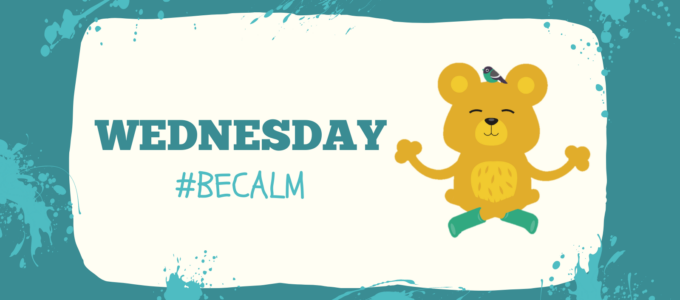 Children and young people can sometimes struggle to regulate emotions. Tantrums, outbursts, whining, defiance, fighting are all behaviours that can be seen when children are experiencing powerful feelings that cannot quite be controlled. Regulating emotions might also be particularly challenging when out of routine or at home for long periods of time. This Wellbeing Wednesday take some time to be calm and focused which is also great for your emotional wellbeing.
ACTIVITIES FOR YOU TO TRY
Here are three Wednesday #BECALM ideas for you to try during Scottish Children's Health Week.
ACTIVITY 1 | STAR BREATHING
Just like a star has 5 points, you can use the 5 fingers on your hand to guide your breathing. Hold your hand up in front of you and open your fingers like a star. Use the pointing finger from your opposite hand and place it at the bottom of your thumb. Trace up your thumb, breathing in
through your nose as you go, then trace down your thumb, breathing out through your mouth. Repeat this for all of your fingers, breathing in, and then breathing back out. This is a great way to practise your breathing, steady yourself and feel a sense of calm. You can use it anytime, anywhere!
ACTIVITY 2 | LEARN FROM RUBY'S WORRY
In the book 'Ruby's Worry', Ruby has a Worry that starts off small, but starts to grow bigger and bigger. Soon, it grew so big that it stopped Ruby doing what she loved. Ruby tried to carry on as normal, but she continued to worry about the Worry – the worst thing you can do! One day, Ruby visited the park and noticed a boy, also with a Worry. When the boy told Ruby what was on his mind, his Worry began to shrink! Speaking to somebody else about your worries, or writing them down, is a great way to help – especially if you are feeling anxious or frightened. If you are feeling this way, try writing down how you are feeling and, like Ruby, sharing it with a friend or a family member. Remember – it is always ok to ask somebody for help. Sometimes, we can't change the things that make us feel anxious, but we can help to control the way that we think and behave around them to help us feel better!
ACTIVITY 3 | CREATE A NIGHTTIME ROUTINE
Routines can help us to feel more in control and help us to make room in our lives for things that are important. Sleep is an important part of all our daily routines and developing a relaxing bedtime routine that you do in the same order, at the same time each night, can help you get a better sleep. Think about what time you need to be up in the morning – we know we need around 8 – 9 hours of sleep each night, so count backwards to make sure you get enough hours! Think about what you need to do before you get into bed – have you brushed your teeth, had a bath, got into your PJs, and set your alarm? Think about planning 30 minutes before you go to sleep as a time to relax – why not read a story or listen to some relaxing music? All of this helps to create a calm environment which helps to improve your sleep which helps to improve your overall health and wellbeing!
We are delighted to have partnered with Relax Kids for #BECALM Wednesday! Realx Kids have provided us with the "Make Your Own Worry Dolls" activity which you can find out about in the SCHW 2022 Activity Book!