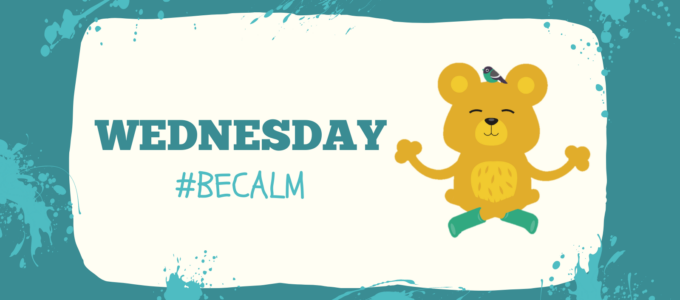 We have made a week full of colourful fun activities for you to download above. Email enquiries@childrenshealthscotland.org about recieving printed copies of the magazine. You can find an easy read version below.
It can be hard to control your emotions. There will always be times when you feel overwhelmed, angry, scared, or unsure. While these powerful feelings are normal, there are some things you can do to help #BeCalm when you feel this way.
ACTIVITIES FOR YOU TO TRY
Here are three Wednesday #BECALM ideas for you to try during Scottish Children's Health Week.
ACTIVITY 1 | Pay Attention to the World Around You
There's always time to explore the world around you using your senses. Find somewhere in nature or anywhere you like, sit quietly, and focus on one sense at a time. For example, what noises can you hear? How would you describe them? Can you copy the sound? Can you find the source of the sound? Which is the loudest and which is the quietest sound? Move to different spots and compare the different sounds! Taking time to just listen can be very soothing. Now do the same thing for other senses.
ACTIVITY 2 | The Calming Glitter Jar
Glitter jars are a great way of practising mindfulness AND a fun activity! They help us to focus, pay attention to our senses, and regulate our emotions. All you need to make one is a clean, empty jar, add a pot of glitter and fill with water. When you shake the jar, the glitter will swirl wildly around like the thoughts in our heads when stressed. Focussing on the glitter as it settles can help your thoughts to feel settled too. When calm, it is easier to talk about our worries or work out why we are feeling sad with a friend or adult.
ACTIVITY 3 | Make a Self-Soothe Kit
A self-soothe kit can help you to find your calm place and choose a healthy way of coping with stress or tricky emotions. Find a box, bag or any container you like to become your self-sooth kit. You can fill your kit with whatever is most helpful to you, but including things that relate to the different senses can be a great way to help regulate your emotions in the moment. This could include positive quotes, favourite photographs, your favourite playlist, fidget toys, a blanket, handcream, a colouring book, and bubbles.
We are delighted to have partnered with Home Link Family Support for #BECALM Wednesday! They have provided us with the "Calming Animals and Arts and Crafts" activities which you can find out about in the SCHW 2023 Activity Book!