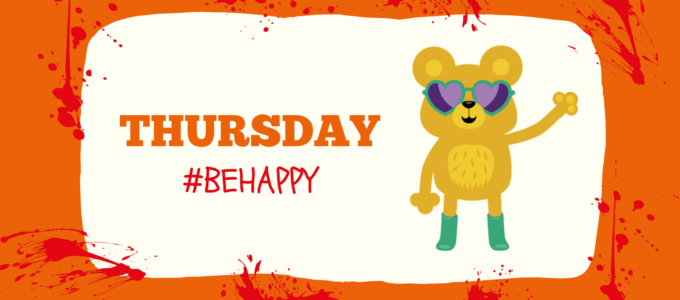 We have made a week full of colourful fun activities for you to download above. Email enquiries@childrenshealthscotland.org about recieving printed copies of the magazine. You can find an easy read version below.
Being happy is not just about feeling good. Happiness is also about emotional health and wellbeing and being able to make the most of the good times and cope with the bad ones, to experience the best possible life. Happiness really is a skill that we can all learn that will last for a lifetime.
ACTIVITIES FOR YOU TO TRY
Here are three Thursday #BEHAPPY ideas for you to try during Scottish Children's Health Week.
ACTIVITY 1 | Hug Hearts
A nice long hug can help people feel more connected. Take some colourful paper, cut out a heart and write "Trade this heart for a hug" on it. You can then hand this heart out to your loved ones and share the hugs! If you would feel more comfortable with a high five or a fist bump instead, then do that instead. Whatever makes YOU happy!
ACTIVITY 2 | Make a Happiness File
How often do you think about how great you are? Make a file and fill it with pictures, objects and memories from when you felt proud of yourself. Your Happiness File can contain anything you want – there are no rules, just as long as it makes you happy. Look at your Happiness File whenever you need cheering up and keep adding to it when you find something you want to save.
ACTIVITY 3 | Capture Colours on a Rainbow Walk!
Going outside and moving around are two ways to help you feel happier. Why not head out for a digital walk? Let the colours of the rainbow lead your way! Can you spot something red in nature? Perhaps a poppy flower, or a red watering can. See if you can spot something orange; perhaps an autumnal leaf! Continue with yellow, green, blue, indigo, and violet. If you can, then take photos of the colours you find and create a collage to remember your rainbow walk!
We are delighted to have partnered with Children 1st for #BEHAPPY Thursday! They have provided us with a "Mindfulness Breathing Flower" which you can find out about in the SCHW 2023 Activity Book!