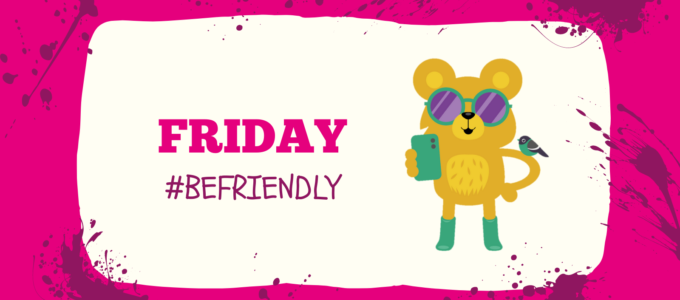 Friends make our lives better. They help us laugh, stand by us when we are down and make our lives healthier. Yes, that's right. Surrounding yourself with good friends is an important way to stay healthy throughout your life and hanging out with them – even for 10 minutes – improves your brain function and ability to solve problems.
ACTIVITIES FOR YOU TO TRY
Here are three Friday #BEFRIENDLY ideas for you to try during Scottish Children's Health Week.
ACTIVITY 1 | DRAWING AND PAINTING
Looking and creating things, especially with friends, can help us understand our place in the world and explore life in a unique way. Philosophers and writers do this with words, artists do it with images and objects, adding imagination and self-expression. Getting colourful and creative with paints and drawing tools with your friends allows you to experience the world in a sensory way and is also an invitation to learn about colours, mixing, and good-old tidying up!
ACTIVITY 2 | LAUGH TOGETHER
We all need laughter in our lives and sharing a laugh can help bring us and our friends closer together. A sense of humour can brighten life and those with a well-developed sense of humour are happier, more optimistic, have higher self-esteem, and can handle change well. It is worth remembering that a sense of humour is a learned quality that should be developed throughout life, it is not something you are born with. Why not try some activities that will make you and your friends laugh today? You can blow raspberries, put on a silly hat and chase each other around, read jokes from a book to one another or draw "funny" pictures. Go on – have a laugh!
ACTIVITY 3 | READ WITH FRIENDS
Reading together is a great way to share ideas with your friends. You can pick a book to read together and then share your discoveries by discussing the illustrations and pictures, the characters, why you are interested in the book, etc. Reading is a time for closeness, laughing and talking together – and it can also help you become lifelong readers. Remember there is no right or wrong way to enjoy a story and it is great to swap books with friends to get the chance to read new stories, and get then get talking about you are reading.
We are delighted to have partnered with Starcatchers for #BEFRIENDLY Friday! Starcatchers have provided us with the "Give Me a Sound" activity which you can find out about in the SCHW21 Activity Book!