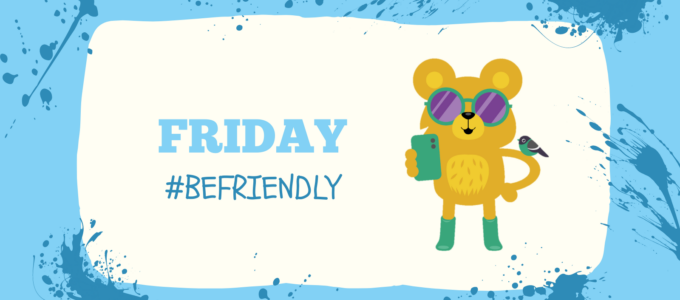 We have made a week full of colourful fun activities for you to download above. Email enquiries@childrenshealthscotland.org about recieving printed copies of the magazine. You can find an easy read version below.
Relationships and feeling connected to other people is one of the most important ways to positive mental health and emotional wellbeing. One of the best ways to stay connected to people is through our friends. Good friends are always there for us and pick us up when we are down. Spending time with them and laughing together creates a real feel-good factor and is good for our mental wellbeing. It is important not only to reach out to our old friends but also to new people as well. That way, we make new friends throughout our lives.
ACTIVITIES FOR YOU TO TRY
Here are three Friday #BEFRIENDLY ideas for you to try during Scottish Children's Health Week.
ACTIVITY 1 | Host your own Picnic
We love picnics! Who doesn't? You get to go outside (or set up inside if weather is not so good), eat tasty food, sip your favourite drinks, play games, and spend time with friends and family. Why not organise your own picnic? You can invite who you want, bring your toys or teddies, your comfiest blanket, and your favourite snack. Use your imagination to make the picnic how you want it and it can be as big or small as you like.
ACTIVITY 2 | Make a Certificate for someone you care about
Show a friend or family member how much you care by making them a certificate to celebrate them and their achievements. Are they an amazing footballer, a creative artist, or just really nice to be around? I'm sure they will be glad to know! All you will need is some card or paper and some pens and pencils to make a certificate which shows how great your relationship is.
ACTIVITY 3 | Be a Friendly Explorer!
Grab your sketch pad or your smartphone and go on an adventure. Whilst you are exploring sketch what you see or take some photographs. Look for things that make you smile or you can share with your friends. When finished compile your sketches or photographs in a scrapbook and share it with others to inspire kindness and friendship in your community.
We are delighted to have partnered with Place2Be for #BEFRIENDLY Friday! They have provided us with the "Exchanging Postcards" activity which you can find out about in the SCHW 2023 Activity Book!