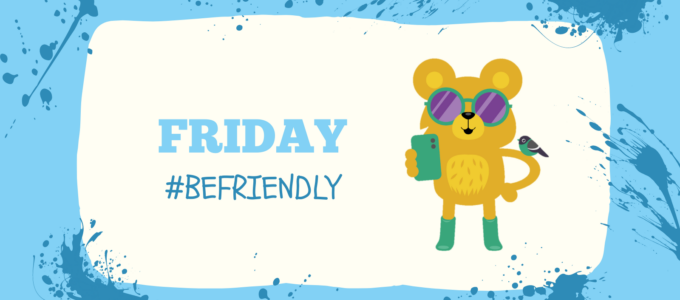 Relationships and feeling connected to other people is one of the most important ways to positive mental health and emotional wellbeing. One of the best ways to stay connected to people is through our friends. Good friends are always there for us and pick us up when we are down. Spending time with them and laughing together creates a real feel-good factor and is good for our mental wellbeing. It is important not only to reach out to our old friends but also to new people as well. That way, we make new friends throughout our lives.
ACTIVITIES FOR YOU TO TRY
Here are three Friday #BEFRIENDLY ideas for you to try during Scottish Children's Health Week.
ACTIVITY 1 | COUNT THE WAYS TO BE FRIENDLY
Being friendly is not just good for other people. It is also very good for you as you feel the benefit of that friendly connection with the other person. Try this – give someone a big smile and see what happens? When they smile back, chances are you feel happy and warm in return. There's lots of ways to be friendly or show friendship – saying hello, giving someone a big smile, a friendly wave as you go past, asking them how they are when you see them. You could give them a high 5 or a picture/drawing that you have done. Keep a count of all the ways you can be friendly.
ACTIVITY 2 | PLAN A GET-TOGETHER OR A TRIP
Maybe you haven't seen your friends in a while because of lockdown. Think about how you could get them all altogether, such as party, picnic or camping trip in your back garden. It will take quite a bit of planning, but that's part of the fun! Make lists of who you will invite, all the equipment you will need, the food you need to buy (does anyone have special dietary needs?), how much will it cost (do you have a budget?) You can even include the activities, games and entertainment you would like. If you are camping, do you need to draw a map of where everyone will be? Remember you can invite friends you know and new ones too.
ACTIVITY 3 | WHAT ARE FRIENDS FOR? MAKE SURE THEY KNOW!
It's important to remember to tell our friends just why we like being friends with them. Next time you speak to your friend in person or digitally, tell them what you like about being their friend and why they are such a good friend. You could also send them a post card with a really nice image on one side and on the other side, write:
• Friends since… date you first met)
• Why you like being their friend
• A compliment
• What you would like to do when you next get together
We are delighted to have partnered with Kinship Care Advice Service for Scotland (KCASS) for #BEFRIENDLY Friday! KCASS have provided us with the "Children's People Chain" activity which you can find out about in the SCHW 2022 Activity Book!