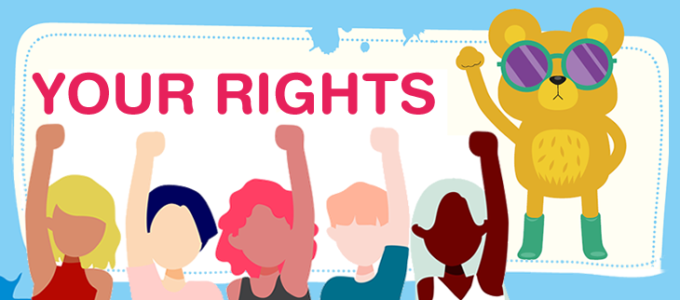 Do you know about rights? Human rights are a list of things that all people need in order to live a safe, healthy and happy life. You have them no matter: where you are from, how old you are, what you believe, or how you choose to live your life.
ACTIVITIES FOR YOU TO TRY
Here are two activities for you to try during Scottish Children's Health Week to learn more about rights.
ACTIVITY 1
CLICK HERE to view or download a list of children's rights. If you are viewing online then close your eyes and point/land on right. Or if you can print it then take a piece of rice or a small stone and drop it onto the paper. What right did you land on? Find out more about this right online at https://cypcs.org.uk/rights/uncrc/articles/ and discuss with your friends and family what this actually means to you.
ACTIVITY 2
CLICK HERE to download and print off a colouring sheet. While you colour this in discuss the right and what it means to your health and wellbeing.
MORE ABOUT RIGHTS
The United Nations Convention on the Rights of the Child (UNCRC) is an important agreement by countries who have promised to protect children's rights. The Convention on the Rights of the Child explains who children are, all their rights, and the responsibilities of governments. Governments cannot pick or choose which rights to honour. All the rights are connected, they are all equally important and they cannot be taken away from you. Adults must respect and protect the human rights of children and young people when they plan services, make policies and decisions.
EACH – European Association for Children in Hospital – is an international umbrella organisation for the welfare of children in hospital and other healthcare services.
Children's Health Scotland is a member of EACH and represents the organisation in Scotland. EACH has created a Charter that stipulates in 10 points the rights of sick children and their families before, during and after a stay in hospital and in other healthcare services. The rights mentioned in the Charter apply to all sick children, regardless of their: illness, age, disability, origin, social and cultural background, reason, form or place of treatment, or whether they are in-patients or out-patients. The 10 principles of the EACH Charter relate in many respects to the rights of the child in general as stipulated in the UNCRC, as well as to the recognition of children's different emotional and developmental needs depending on their age.