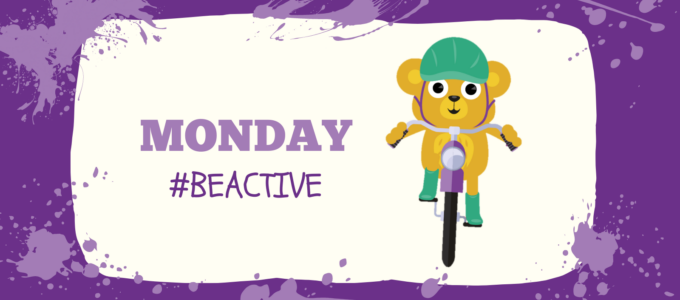 We have made a week full of colourful fun activities for you to download above. Email enquiries@childrenshealthscotland.org about recieving printed copies of the magazine. You can find an easy read version below.
We can all benefit from being active every day. It can help you feel stronger, more energetic, sleep better – and have FUN! Today, let's get involved with games, spend time outdoors, and get out bodies moving. All kinds of exercise will help your health and wellbeing physically, socially, emotionally, and mentally. So, let's #BeActive!
ACTIVITIES FOR YOU TO TRY
Here are three Monday #BEACTIVE Activities for you to try during Scottish Children's Health Week.
ACTIVITY 1 | Have a Dance Party
Make a playlist for your favourite music and host a dance party with friends and family. It's fun to share the music you like with others
and to discover new songs. Make it into a competititve dance-off for everyone to show off their best, coolest or funniest moves.
ACTIVITY 2 | Indoor Golf
Making your own indoor golf game can be as elaborate or simple as you like and will test your creativity. Take a ball or any object that will roll and set up courses in different environments to play. Can a cup or shoe be a target? Can you use pillows and toys for obstacles? How about getting really creative and by recycling and decorating bottles and tubs to make the course extra fun. Can you think of any other sports that can be played indoors?
ACTIVITY 3 | Make a Time Capsule
Do you want to capture your life here and now so you can look back on it in the future? With a time capsule, you can do this. Time capsules are containers which can be filled with things that are important to you and then hidden or buried so that you can find them at a later time. You can fill your time capsule with anything which you would like to look at years from now, like a handprint, photos, drawings, a list of your friends or favourite books, and a note about something you hope will happen by the time you open the time capsule again. Search for a safe place to put the capsule where it won't be lost of damaged and remember to find it again in the future.
We are delighted to have partnered with Do Be Mindful for #BEACTIVE Monday! Do Be Mindful have provided us with the "Noticing Nature Walk" activity which you can find out about in the SCHW 2023 Activity Book!