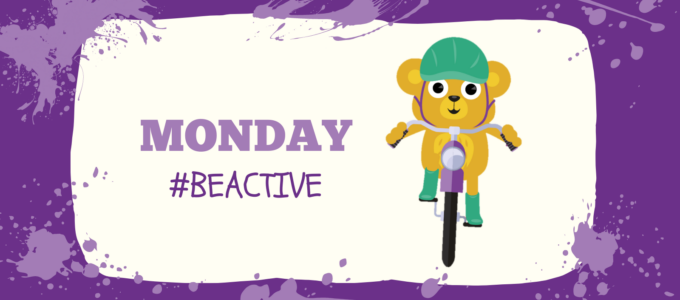 We can all benefit from being active every day and getting involved in games and activities is a great way to be more active. But please remember, being active isn't just about feeling stronger, fitter, more energetic and sleeping better. It's also about having fun! You don't have to go to the gym to be active – you can take a walk, go cycling or play a game. Remember being active is vital for healthy development and contributes to your quality of life, health, and wellbeing as well as your physical, social, emotional, and cognitive development.
ACTIVITIES FOR YOU TO TRY
Here are three Monday #BEACTIVE Activities for you to try during Scottish Children's Health Week.
ACTIVITY 1 | BLOW GIGANTIC BUBBLES
Giant bubbles are easy to make and fun to do; a perfect activity for just one person or a group of any size! You only need three simple ingredients to make this bubble mixture – water, washing up liquid and glycerine. More specifically 1 litre of warm water, 250ml of good quality washing up liquid and 2-4 tablespoons of glycerine which you can find in the baking section of your supermarket. Mix all your bubble mixture ingredients together and then leave the bubble solution overnight. Now you have the mixture ready you're all set to blow gigantic bubbles.
ACTIVITY 2 | RAINBOW SCAVENGER HUNT
Rainbows are such a fun and happy natural occurrence, but it's a shame they can't be around all the time. Why not try to bring a rainbow indoors? In your home, look for items with the colours of a rainbow: red, orange, yellow, green, blue, indigo and violet. You can do it with friends and family too to see who can collect all seven items the fastest and who can find the most interesting objects.
ACTIVITY 3 | BEE HOTEL
Bee Hotels are a great way to attract pollinators to your garden. Bee hotels are places for solitary bees to make their nests. Bees do not stay together like in a hive, instead they lay their own eggs in small tube-like holes and seal them with mud. Using a mug, you can roll card into a tube shape and tape together till the inside of the cup is full. Using the handle of the mug you can hang your bee hotel on a tree or fence where it won't be disturbed.
We are delighted to have partnered with Play Scotland for #BEACTIVE Monday! Play Scotland have provided us with the "12 Things To Do Before You Are Twelve" activity which you can find out about in the SCHW 2022 Activity Book!