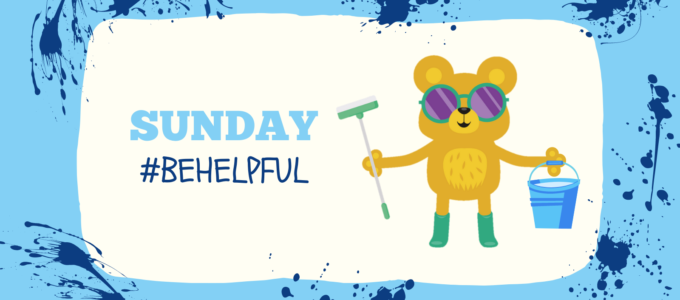 Helpful people help others. Being helpful means doing things to care for yourself, your family, friends and community. It can start with looking for people who might need your help and doing something to help them out of love. What could you do today to help someone else and make them feel special?
ACTIVITIES FOR YOU TO TRY
Here are three Sunday #BEHELPFUL ideas for you to try during Scottish Children's Health Week.
ACTIVITY 1 | HELPING HAND
Who can you lend a helping hand to today? Could you help a parent or carer with something that they normally do for you? Like making breakfast or tidying up? You will feel great for achieving something and it will be a nice way of giving back to someone who gives so much to you. Or can you think of someone else who could use your help? Maybe a sibling or neighbour? Or a classmate who could use some help at school?
ACTIVITY 2 | GIVE A MEDAL
Is there someone you would like to thank for helping you? If you have some card from a used cereal box or any other kind of paper, you can cut out and decorate a 'Medal' to show them you really appreciate their help. You can make it special with colours and decorations, punch a hole in it (ask an older person for help if you need it), and then use string or ribbon to make it into a medal!
ACTIVITY 3 | BE A GOOD FRIEND
What does it mean to be a good friend? Of course, it means spending time and having fun with another person whose company you enjoy. However, it can be important to show this person what you like about being their friend and why you spend time with them. Today, find your best friend and give them a compliment and a reason why you like them so much. Are they fun to be around and like the same games or books as you? Do they tell the best jokes? Let them know why they are important to you.
We are delighted to have partnered with The LUNA Project for #BEHELPFUL Sunday! The LUNA Project have provided us with the "Hugs for Happiness poem" activity which you can find out about in the SCHW21 Activity Book!