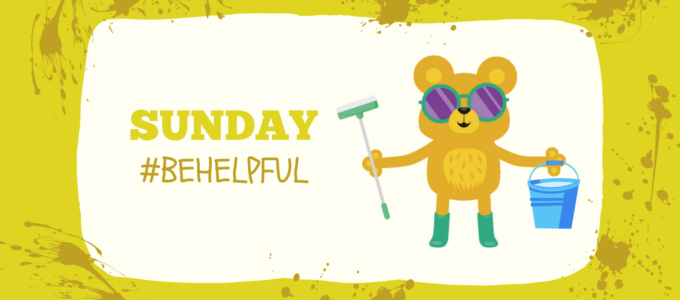 Helpful people help others. Being helpful means doing things to care for yourself, your family, friends, and community. It can start with looking for people who might need your help and doing something to help them out of love. What could you do today to help someone else and make them feel special?
ACTIVITIES FOR YOU TO TRY
Here are three Sunday #BEHELPFUL ideas for you to try during Scottish Children's Health Week.
ACTIVITY 1 | THINK ABOUT WHO HAS HELPED YOU… AND HELP THEM BACK
Receiving help when we needed it most can be really important and memorable. Think back to a time when someone helped you out for any reason such as a parent or carer helping you to feel safe and happy, or a friend helping you with school homework, or a teacher helping you to master a skill that has given you some trouble, or even a pet who has always been by your side. Help them back to show them how much their support meant to you. Do a chore for a parent or carer, make a gift for a friend or teacher, or give a furry friend a delicious treat!
ACTIVITY 2 | SPEND TIME WITH SOMEONE
Sometimes people are too shy to say they would like to hang out or spend time with other people. So today, try to look out for someone who might want some company. Ask someone who looks like they are on their own at playtime to join in your games. Try to include someone at lunch time who might be on their own. Give someone a compliment for something they have done that genuinely impressed. All of these things can seem small to you but may mean the world to the other person.
ACTIVITY 3 | HELPING HAND FOR THE ENVIRONMENT
The environment does so much for us! Without it, we wouldn't have the air we breathe, the food we eat, or a fun place to play and relax. Help out the environment today by doing something that mother nature will love. You could water some plants to make the flowers and insects happy, look up online how to make a bird feeder and what food birds like, or simply take a walk in a nearby park and appreciate the nature close to home.
We are delighted to have partnered with See Me for #BEHELPFUL Sunday! See Me have provided us with the "What's On Your Mind" colouring-in activity which you can find out about in the SCHW 2022 Activity Book!