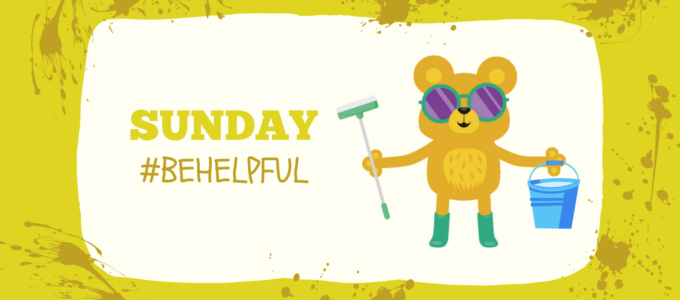 We have made a week full of colourful fun activities for you to download above. Email enquiries@childrenshealthscotland.org about recieving printed copies of the magazine. You can find an easy read version below.
Helpful people help others. Being helpful means doing things to care for yourself, your family, friends, and community. It can start with looking for people who might need your help and doing something to help them out of love. What could you do today to help someone else and make them feel special?
ACTIVITIES FOR YOU TO TRY
Here are three Sunday #BEHELPFUL ideas for you to try during Scottish Children's Health Week.
ACTIVITY 1 | Grow some Seeds
Ready to get some green fingers? Growing some plants is a great way to learn more about nature while also being helpful to the seeds as they rely on your help to grow up big and strong. Seeds can be bought from most supermarkets for £1 or less and some food banks and charities give seeds away for free. You can grow them in an outside garden or an indoor pot which you can make using an old bottle or yogurt pot. Whatever you grow, make sure to have fun!
ACTIVITY 2 | Set Helpful Goals
One of the great things about being helpful is it encourages us to think about others and their needs. Use today as an opportunity to see who you can help! Set the goal of helping your parent or carer with a chore everyday for a week. How about aiming to help a friend at school who is struggling with a subject. You could research charities in your area and volunteer to help them by lending your time and skills.
ACTIVITY 3 | Cook, Bake, or Eat some delicious Food
Cooking and baking are really fun and helpful skills which will stay with you for life. Try making some food today! Visit your someone who makes the best cakes and ask to make a delicious treat with them. Try making and healthy meal recipe with a friend or family member and enjoy eating together. You can find tons of great recipes online and many of them can be budget friendly. Who's going to be extra helpful and wash the dishes?
We are delighted to have partnered with BBC Children in Need for #BEHELPFUL Sunday! They have provided us with the "Colouring in with Bear and Pudsey" colouring-in activity which you can find out about in the in the SCHW 2023 Activity Book!