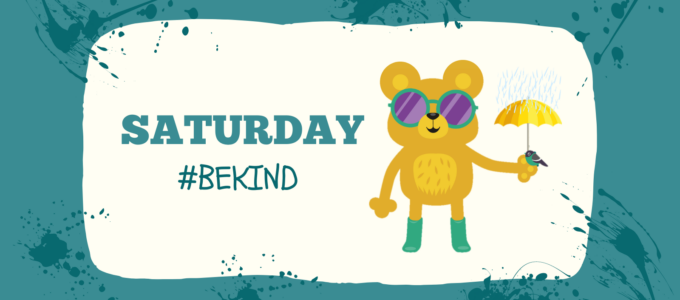 We have made a week full of colourful fun activities for you to download above. Email enquiries@childrenshealthscotland.org about recieving printed copies of the magazine. You can find an easy read version below.
The smallest act of kindness can make a huge difference, whether it's a kind word, a thank you or even just a super smile! There are bigger acts of kindness such as volunteering or going shopping for someone who needs your help. Being kind helps us connect with other people, makes them feel good, and helps our own mental health and wellbeing too!
ACTIVITIES FOR YOU TO TRY
Here are three Saturday #BEKIND ideas for you to try during Scottish Children's Health Week.
ACTIVITY 1 | Kindness Stones
This simple activity can easily spread kindness and make someone's day. Go outside and find a stone. Use paint and decorations to put a kind message or a nice picture on the stone. Once the paint has dried, go back outside, and find the perfect spot to place the stone. Anyone who sees your hard work will surely smile!
ACTIVITY 2 | Capturing Kindness
Photographs or drawings can help us to connect with others; they can tell stories of people who are important to us, show us happy memories, and help us to celebrate proud moments in our lives. Why not show kindness by drawing pictures or taking pictures of people who are important to you? Capture the kindness and then share it, by writing them a message to let them know why they are so important to you.
ACTIVITY 3 | Write a letter to yourself
Writing a letter to yourself can be a wonderful way of looking back at all of your achievements, feeling proud of all of the amazing things you have done, and help document your memories! It is a way to show kindness to yourself in the moment, whilst also sharing kindness with your future self! Kind and comforting, you can set goals and share positive thinking about all of the things that make you, you! Do you have an event coming up a year from now, or perhaps in ten years? Write a letter about it right now to remember how your feel about it and then you have it as a memory to look back on in the future.
We are delighted to have partnered with The LUNA Project for #BEKIND Saturday! They have provided us with the "My Kindness Rainbow" activity which you can find out about in the SCHW 2023 Activity Book!