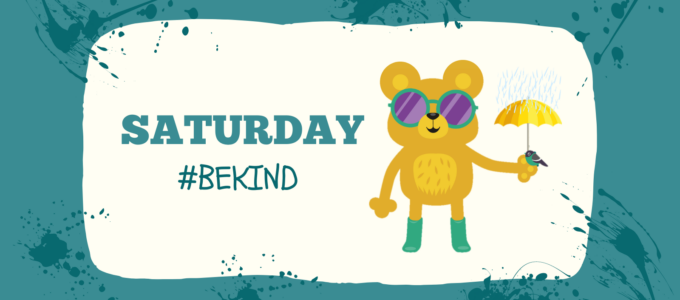 The smallest act of kindness can make a huge difference, whether it's a kind word, a thank you or even just a super smile! There are bigger acts of kindness such as volunteering or going shopping for someone who needs your help. Being kind helps us connect with other people, makes them feel good, and helps our own mental health and wellbeing too!
ACTIVITIES FOR YOU TO TRY
Here are three Saturday #BEKIND ideas for you to try during Scottish Children's Health Week.
ACTIVITY 1 | BE KIND TO YOURSELF – INSPIRATION STATION
Design and make a vision board to help light a spark of inspiration when you need it! Add drawings or pictures of people, places or things that inspire you. How can you show why these things inspire you in your design? You'll need: paper/card, pencils/pens, old newspapers/ magazines, decorations. Your Inspiration Station will always be there for you to come back to when you want to be inspired!
ACTIVITY 2 | BE KIND TO OTHERS
Being kind to others has a great effect on your own happiness. You could smile at someone in the corridor, play with someone who is on their own, make someone who cares for you a nice drink or tidy up your toys or bedroom without being asked. Think about how being kind made you feel. There are opportunities to be kind everywhere you look.
ACTIVITY 3 | BE KIND TO YOUR COMMUNITY
Make a poster or a picture all about what you have learned about kindness and sharing kindness today. Include what you have done today to be kind to others and how others have been kind to you. How did it make you feel? You could put the picture or poster up at school, in the library, or at home. Your poster could inspire someone else to be kind! You could even organise a kind activity at school, like a litter pick up in the playground.
We are delighted to have partnered with Curiosity Collective for #BEKIND Saturday! Curiosity Collective have provided us with the "Random Acts of Kindness Challenge" activity which you can find out about in the SCHW 2022 Activity Book!