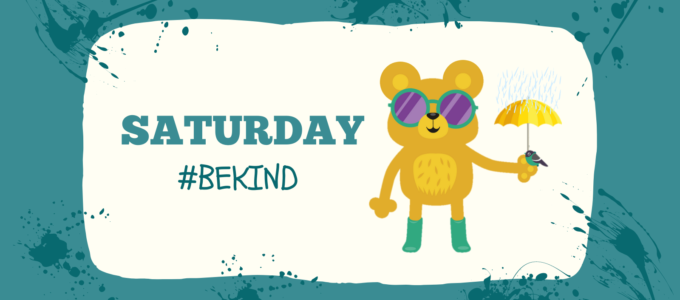 Kindness is about choosing to do something that helps others or yourself, motivated by genuine warm feelings. This has real benefits for our wellbeing and happiness, but did you know that being kind to yourself actually has a similar effect? One way to be kind to yourself is through self-care. Self-care is about what you can do to keep yourself feeling good and helps to look after your mental health. See if you can complete the Self- Care activity on the next page! Remember, the smallest act of kindness can make a huge difference, whether it's a kind word, a thank you or even just a super smile!
ACTIVITIES FOR YOU TO TRY
Here are three Saturday #BEKIND ideas for you to try during Scottish Children's Health Week.
ACTIVITY 1 | TWO WAYS TO BE KIND
Kindness is all about being friendly and caring towards other people and yourself. Can you think of different ways that you could show your kindness today? It could be telling someone that you love them, asking someone how they are, making someone a card, or telling them something you like about them. You could try this with someone in your family, a friend or even a neighbour! How did it feel when you were kind? Being kind to others shows them that you care and makes them feel good – but being kind can also make you feel really good too!
ACTIVITY 2 | BE GENEROUS
Sharing with someone or giving to others are very kind things to do. Today, you could look for some old toys you don't play with or some clothes that don't fit you anymore, put them in a bag, and donate them to a local charity shop for someone else to cherish. You could do some baking and share it with your friends, family, classmates or other people you know. Or you could let a friend borrow a book or game!
ACTIVITY 3 | KINDNESS JAR
Today is all about being kind, so I'm sure you will have lots of kind activities planned. One way to show off how kind you and those around you are being is to create a kindness jar. Take a clean jar, and then every time you do something kind for someone (or they do something kind for you), write it down on a small piece of paper, fold it up, and keep it safe in the jar. Soon the jar will start to pile up with all of the kind deeds you have done and had done to you! When its full, you can look over them to remember the kindness you have received and feel really proud of the kind things you did for others.
We are delighted to have partnered with Mental Health Foundation for #BEKIND Saturday! Mental Health Foundation have provided us with the "Self-Care Checklist" activity which you can find out about in the SCHW21 Activity Book!