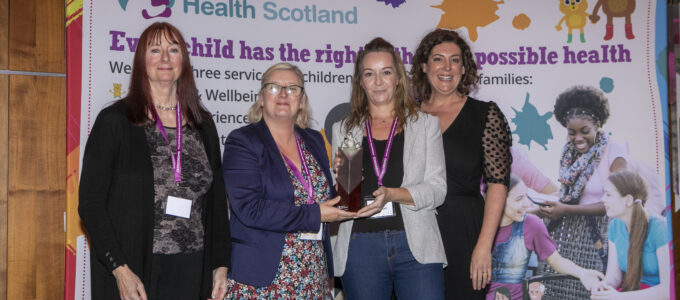 Health-related play is more than just a chance to have fun. It's a serious business when it comes to children's health and wellbeing. It can help children physically, mentally, and emotionally and is an essential part of treatment that can help to speed up recovery either in hospital or at home. 
Theresa Wright is a Health Play Specialist and Wendy McKechnie is a Play Assistant in Glasgow Children's Hospital Play Team. Neither of them knew they'd been nominated for the award, but both were equally delighted to have won.
Theresa works with children and young people attending hospital for any procedures to help prepare and support them. "I meet children who are coming in for any type of scans, who may have to have bloods taken or come in for surgery. We try, as a team, to make their journey as easy and positive as possible. The hospital can be a very frightening place, not only for the patient but also the family. We have a Teddy Hospital where we let the children use role play to help prepare them. It allows them to ask relevant questions and play with  medical equipment to hopefully alleviate any fears they have."  
Wendy covers cardiac and neonatal wards and helps children play to cope with the pressures of being in hospital. "The work is crucial; it helps distract children and ease their worry whilst in hospital. I use play to build the child's confidence and help them progress. The best part of my job is the achievement of making a child smile. It always means so much to me knowing I've helped." 
Parent Julie Donn was one of the nominees of the team. She said: "The Glasgow Children's Hospital Play Team work together to provide outstanding support for children going through some of the scariest experiences of their little lives while also supporting parents through some of the most stressful times of theirs. They are there for us – whether it be through procedure preparation sessions in the teddy hospital, arts and crafts on the ward, playing games, or just chatting. The commitment they show to helping children through procedures they are struggling with and being able to identify what is worrying them even when it is completely outside the box is invaluable.  
"They are the key to success for so many and the relief from parents to have the support and the sheer joy and sense of achievement from both child and parent when they manage to get through a procedure that previously felt impossible can literally not be put into words. They have smiles on their faces and a spring in their step that is contagious and brings hope and excitement into the room with them even when that room is heavy with worry and fear. They are without a doubt changing little scared and big worried lives daily and I truly hope they know how special they all are. They are our heroes, and we wouldn't be where we are without them." 
Theresa says winning the Health-Related Play Award is an excellent opportunity to publicise the service as people don't understand the importance that play can make in the hospital setting. "Winning this lets people know about our service, our role, and the support we can offer all families who have anxieties about attending hospital for any procedures. 
"I think our legacy would be to continue to make a difference in patients' lives within the hospital setting, pass on the importance of play and hopefully be able to always put the child/young person and family first." 
On choosing their winner the judges said: "Prior to COVID-19 we would have acknowledged the amazing work of the team in terms of how they help children and parents through play.  However, the way the team has found new ways of delivering play during difficult times is amazing and an acknowledgement to how all people in the sector have had to adapt. We are proud to present this award to a team in recognition of all those in the sector who have found new ways to operate in these trying times, always keeping the child and their family at the heart of everything they do." 
Congratulations to Theresa Wright and Wendy McKechnie of
Glasgow Children's Hospital Play Team on winning the Health-Related Play Award. Thank you for making a difference.