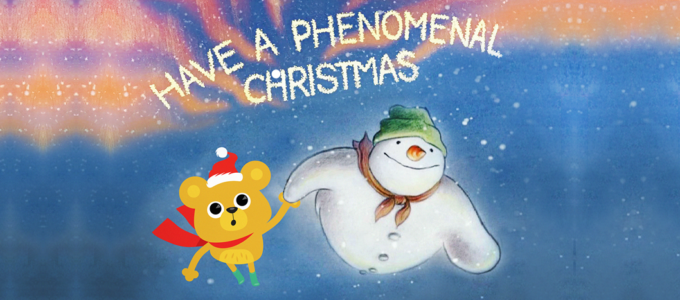 Cloaked in the hazy fog of a crisp Tuesday dawn, Bear took to the skies with Snowman. It was the moment they've been eagerly anticipating all year round. Paw-in-hand, they whooshed above the hilly lands. And when the world beneath transformed into a checkered blanket, Bear and Snowman started spreading festive, snowflake, good wishes to everyone below. "Have a Phenomenal Christmas" – they sang into the skies and the giving season thus began.
We're excited to announce that Children's Health Scotland is launching the Have a Phenomenal Christmas Campaign today (1 December 2020 and #GivingTuesday). With the help of our mascot, Bear, we're asking everyone to support our charity. Your donations will support the vital work of Children's Health Scotland.
Our festive campaign includes Bear's Countdown to Christmas #BearsC2C – daily social media activity based on the much-loved Advent Calendar and involving Bear.  2020 has been a difficult year for everyone, including Bear, so in the run up to Christmas, Bear will share health and wellbeing messages and try out activities to help children, young people, and families feel good whilst learning more about healthcare rights. To get involved with the campaign just visit our Facebook or Twitter pages in the run up to Christmas and tag your adventures #BearsC2C.
We are the only charity in Scotland entirely dedicated to ensuring that children and young people receive the healthcare and treatment they need. As such, our efforts are essential for a healthier and happier society. We have focused on helping all children and young people with health conditions in Scotland for over 30 years, and we simply could not have done our work without the generous help of people like you.
Helen Forrest, the Chief Executive at Children's Health Scotland, put it this way: "Children's Health Scotland just wouldn't be possible without the hard work, knowledge and enthusiasm of our staff, the dedication of our supporters and volunteers, and the generosity of people, trusts, and foundations."
That is why we ask you to consider helping Bear in spreading the generous holiday spirit this season.
If you would like to make a donation towards the work of Children's Health Scotland, please click the Please Donate button at the top of this page.
Thank you and have a phenomenal holiday season,
Children's Health Scotland