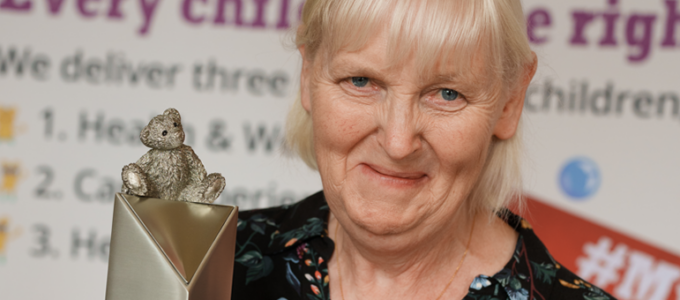 The Health-Related Play Award recognises a special individual, or team, who has made a significant difference to a child's life through health-related play.  This difference could have been achieved in school, at hospital or in the community. Our winner is Joyce Nolan.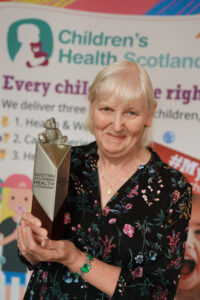 Since 2005 Joyce has worked as a health playworker, both at Victoria Hospital on the Children's Ward and Children's Outpatient Clinics, and latterly at Queen Margaret Children's Outpatient Unit, where she developed and delivered a Play Service. This service supports every child and their family who attend with a healthcare need, which includes those with long-term chronic conditions, like Cystic Fibrosis, asthma, juvenile arthritis, diabetes, and allergies as well as many children with neurodiverse challenges.
Joyce uses play to assist these children and their families on their hospital journey. This can range from 'normalising play' through to one-one play providing coping strategies and distraction therapy for procedures and interventions. Her work has helped many children have a more positive hospital experience.
"A child's hospital journey is full of necessary clinical/medical interventions where often they are seen mainly as a patient not a child, and as such feel that they don't have choices or even a voice. This can lead to a build-up of fears and anxieties, which culminates in distress and non-compliance.
"My whole philosophy has always been that they are a child first – they deserve to be heard and recognised. In my role I listen very carefully to their fears and anxieties, give them a voice, advocate for them, provide coping strategies and distraction therapy at the point of intervention, thus empowering them to cope – all of this while winning at Connect Four!"
Sarah Smith, a Paediatric Cystic Fibrosis Specialist Nurse, who has worked alongside Joyce for many years and nominated her for the award says, "Joyce is an inspirational advocate for children and young people of varying abilities. She's a champion of the importance of health play and supporting the individual child's health journey to minimise anxiety and avoidable distress and maximise big fun."
Joyce has a particular interest in working with neurodiverse children. She identifies their need, actively listens, and works to find ways to help them understand and cope with procedures. This can involve designing specially tailored resources to meet a child's specific individual needs. "It is very satisfying to see the children manage and feel proud of themselves. For me it is about providing a psychosocial service, which fully takes account of the child, working collaboratively with physicians to ensure the best possible outcome. By putting the child first and empowering them, they are much more able to build resilience and have coping strategies for future interventions."
Joyce says she feels honoured and privileged to have worked with so many resilient children and families over the years and that winning this award honours their bravery and courage. She would like to see recognition of the value of play in hospital and the huge difference it makes to children and families.
On choosing the winner for this award the judges said:
Our winner is a fantastic Health Play Worker who helps to support every child and their family who attend the Hospital Play Service which she developed and delivered. She uses play to assist children and young people on their hospital journey and is a shining example to us all in terms of creative thinking and drive. Her work has helped many children have a more positive hospital experience.
Congratulations Joyce on winning the Health-Related Play Award.