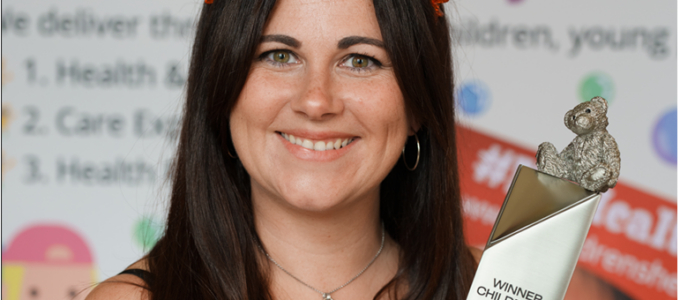 The Children's Choice Award recognises someone who has made a significant difference to a child or young person undergoing treatment in hospital, at home or in the community. It's a "thank you" in recognition of the difference they've made to a child's world. Our winner for this category of the Scottish Children's Health Awards is Nicola Boyle.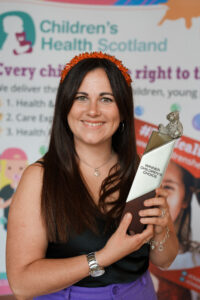 Nicola is a Health Visitor, based at Maryhill Health Centre. Pre-school children and their families are a key focus, but the parents and carers are also central, as Nicola explains. "We give as much support required to assist the parents and carers in meeting their children's needs and support them with their own health and life requirements."
And it's this focus on family – not just the child – that earned Nicola her nomination for the Children's Choice Award.
Arlo Aitken was born at just 23 weeks and underwent a major, potentially life-threatening operation. A terrifying ordeal for any parent, but Arlo's mum Emma was helped through the process by Nicola, and it's one of the many reasons she nominated her for the award.
"Nicola made us feel so comfortable – like she genuinely cared for our family. She understood how we felt, she dealt with difficult conditions and helped us through difficult appointments," says Emma.
Arlo was later diagnosed with autism and Emma feels Nicola helped the family navigate the process. "She pushed for answers, talked us through diagnoses and has repeatedly gone above and beyond for him."
Nicola didn't know she'd been nominated for the award, so when Emma called her to tell her the good news, she automatically thought it was something to do with Arlo. "I went into shock; I couldn't believe it. I thought she was kidding me on! I still can't believe it. I am so grateful for the recognition.
"Arlo has been the 'miracle baby' on my caseload due to being born at 23 weeks. He's been the biggest fighter and developed into a lovely, happy, delightful little boy."
When she made the nomination, Arlo's mum Emma said Nicola had gone above and beyond her remit and emphasised how much Nicola knows the children under her care. That's not gone unnoticed by Nicola, who sees the award as affirmation that she's doing the best for those she works with. "The award has really assured me that I am doing what I try to do every day in my work and help all children and parents meet their needs and live a happy life. I love my job, but when I hear good news about kids' health situations or their achievements I have helped with, it really makes me feel I can do my work and makes it all so worthwhile."
Whilst Nicola is delighted to have won the Children's Choice Award, it's the continued success of the children she works with that she gets most satisfaction from. "The best part has to be seeing all the kids and getting a big smile from them; it really does lighten up my day."
On choosing their winner for this award the judges said:
We feel that our winner is a great example of someone who goes above and beyond to make a difference to a patient and family. She is a Health Visitor and a GIRFEC named person, who has shown excellence in her role, particularly when supporting the parents of premature babies to share their journey in 'person centred care'. This work often happens in the background, clearing obstacles for the family whilst making a difficult situation as easy as she can make it. We also thought it was notable that our chosen winner has done all this work with a family which had lost trust in the health system because of their experiences, and that she had gone some way to restoring that trust.
Congratulations Nicola on winning the Children's Choice Award.