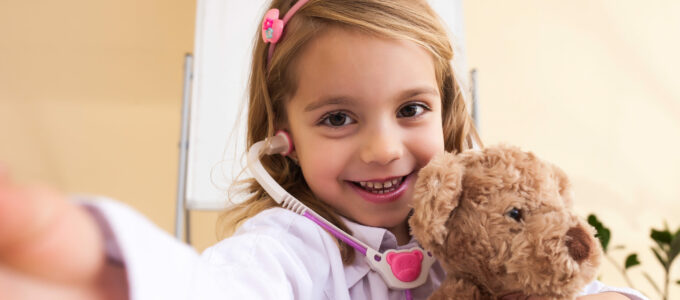 Play in Hospital Week starts on Monday 10th October 2022 and aims to raise awareness of the benefits of play in the treatment of poorly children across the UK. The theme this year is "Play for resilience and good Mental Health" as it highlights the importance of play for everyone's health. #PlayBoostsMentalHealth
It is organised by the National Association of Health Play Specialists (NAHPS), which promotes and ensures the provision of appropriate therapeutic and stimulating play facilities in healthcare, and Starlight Children's Foundation, which brightens the lives of over half a million poorly children in the UK each year.
10th October was chosen to commence this year's Play in Hospital Week as it is also the date of another important awareness day. The NAHPS website explains: "World Mental Health Day on 10th October highlights the importance of play for everyone's health. Children, young people, and families all benefit from play in healthcare, and as play practitioners taking some time to play will help you too!"
As an organisation which specialises in the health and rights of children and young people with health conditions, we are very excited to get involved with Play in Hospital Week. Dagmar Kerr, our Area Co-ordinator for Glasgow and Clyde, regularly delivers health-related play workshops to children in schools and at home.
Dagmar is passionate about the importance of play as a way for children to achieve their health rights and to cope with unfamiliar situations, such as hospital visits. Regarding Play in Hospital Week, Dagmar said: "Children might not always KNOW that it is their RIGHT to have a parent with them when they go to hospital. Or they might not be aware that they have the RIGHT to understand what is happening to them or that they should be involved in decision making. However, they DO KNOW that it does not FEEL RIGHT to be on their own or to have things 'done to them' without them understanding what is going on.
"Play is one of the most important ways to help them learn about these important issues. Anyone who observes children playing about doctors, hospitals, dentists etc, will be able to ascertain, if they have any concerns about past or future treatments and will be able to support them with those feelings. When talking with children of all ages at our hospital or dental play workshops, I am always impressed about their thinking and understanding – even, if they don't always KNOW that they are talking about their healthcare RIGHTS."
Don't forget – you can always check the EACH Charter for more information on healthcare rights.
For Play in Hospital Week, Children's Health Scotland will reveal a new play activity every day on our social media pages. These activities will focus on the theme of "Play for resilience and good Mental Health". We hope you and your children enjoy the activities below:
Mindfulness colouring – colouring and other arty activities are great ways to reduce stress and anxiety while also give your mind a rest. It's also simple as you only need some colouring pencils and paper. We've provided a Health Rights Colouring-In Sheet here to get you started. Children can colour in while learning about their rights with Bear!
Star breathing – focusing on our breathing can be sooothing. Star breathing encourages deep and slow breathing which helps to reduce stress and regulate emotions. Simply imagine a star. Breath in for 4 seconds as you move towards the point of the star, hold your breath for 4 seconds, and then breath out for 4 seconds. Repeating this pattern can help you to relax.
Rainbow scavenger hunt – Rainbows are such a fun and happy natural occurrence, but it's a shame they can't be around all the time. Why not try to bring a rainbow indoors? Look for items that correspond to the seven colours of the rainbow: red, orange, yellow, green, blue, indigo, and violet. You can do it with friends and family too to see who collects all seven items the fastest and who can find the most interesting objects.
Read your favourite book – Reading is a great activity for children as it lets their imagination run wild and helps to develop empathy and understanding of the world around them. Try reading your favourite book, or even try and find your next favourite book. Reading is lots of fun and there is something for everyone!
Draw a picture of #WhatMattersToMe – drawing and other forms of art are amazing ways to express yourself. Children in hospital can draw pictures of their experiences and treatment to help understand and communicate their time in hospital. It can also be fun to draw your favourite person, place, toys, anything! Share your pictures with us on social media.