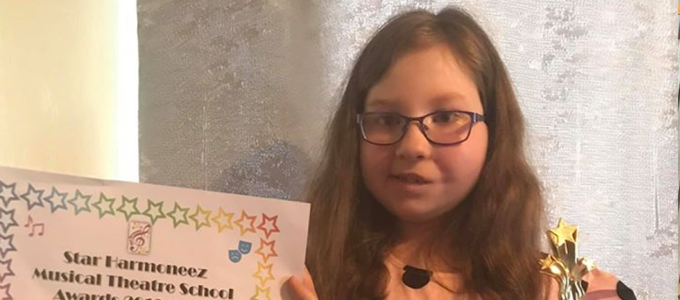 Today we are unveiling our final winner.  Isabella (aged 9) is the joint winner of the Young Achiever Award and her story is captured below by journalist and TV Presenter Catriona Shearer.
The Scottish Children's Health Awards have been created to celebrate courageous children and those who are making a difference to the health and wellbeing of children and young people in Scotland.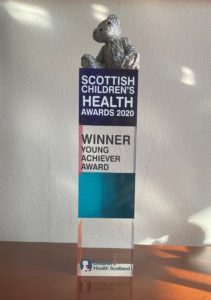 Just before Isabella Rennie turned two she was diagnosed with a brain tumour and then a spinal tumour. After undergoing brain surgery she spent many months in the neurology ward at the Royal Hospital for Sick Children. Margaret McEwan was her Play Specialist. "I met Bella in 2013 just before her 2nd birthday. She had to re-learn a lot of the things she had just learnt, like walking and talking, because the tumours affected the left side of her body. I spent many hours with her singing and playing and we are now great friends and we still keep in touch regularly."
Despite spending the majority of her early life in hospital, Isabella is thriving and doing fantastic at school. "She is an extremely intelligent little girl who is a huge bookworm and loves singing and dancing," says Margaret. "Even though she's unable to do all the moves that everyone else can because it's difficult for her to balance sometimes, she never gives up and always gives it her best shot.
Margaret remembers fondly Isabella's preparations for her parents' wedding. "Her mum and dad were getting married when she was a lot younger and she wanted to decorate her 'walker' to make it all pretty so it wouldn't stand out as much. She puts her all into everything."
Isabella has overcome so much in her short life and Margaret says she has continued to defy everyone around her. She gets very nervous about coming into hospital for tests and procedures but is always very brave. She is such an inspirational little girl who has overcome so many hurdles to get to where she is today."
Margaret nominated Isabella for the Young Achiever Award not only because of the determined and dignified way she has dealt with her illness, but because of the selflessness of her and her family. "Bella and her family have raised money throughout her ordeal (and 80+ weeks of Chemo) and provided many books, arts and crafts, medical kits and lots more for other children within the hospital."
Isabella also attends dancing and a theatre group at another local charity where she lives and helps to fundraise for them. "I just think she has gone through so much and done so much for others that she deserves to be recognised for her achievements, says Margaret. "She has been an inspiration to me at the Royal Hospital for Sick Children in Edinburgh and always comes to see me every time she comes in for an appointment."
The judges found it incredibly difficult to separate the two young finalists in this category, so they didn't and made Isabella the joint winner of the Young Achiever Award.
Congratulations Isabella – you've made a huge impact on the lives of so many.