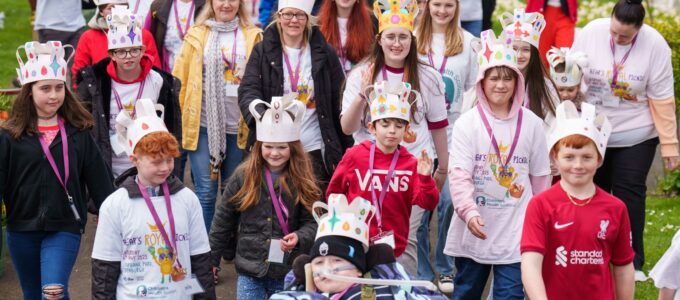 Bear's Royal Picnic, held on Saturday 6 May in Starbank Park, Edinburgh was a 'RIGHTS' royal occasion to be remembered by the children and young people with health conditions, and their families, who attended. Organised by leading healthcare charity Children's Health Scotland, who champions the right of every child to the best possible health, the event was one of 121 projects across Scotland funded by the National Lottery so that local communities could come together in celebration of the coronation.
Families attending unanimously agreed that the special occasion had help to strengthen their connections and friendships within the Children's Health Scotland Community. Margaret Blake, mum of a 15 year old with a health condition said:
What a great idea to all come together for this special day. The scavenger hunt and quiz were fun and the food was amazing. A great job!
Bear is the charity's mascot, so each family attending the picnic received a commemorative bear together with t-shirts and a fun-filled picnic basket.  After games and plenty of laughter, everyone sat down to enjoy scrumptious food and of course cake.
Commenting on the occasion, Helen Forrest, chief executive of Children's Health Scotland said:
With the current cost-of-living crisis and whilst we're still emerging from COVID-19, a special celebratory occasion like this is still rare for most of the families we support. So, we really wanted to create a unique occasion that celebrated rights, play, laughter, and togetherness that would have a positive and lasting impact on the community we support. With the help of the National Lottery, we believe we have achieved this. It was great to see our children and young people with health conditions and their families, together with foster and kinship carers and their families, all join together to share food, games, laughter. The result was a truly memorable occasion that I am sure has strengthened connections and friendships within our community, whilst creating some magical moments.  We're very grateful for the National Lottery funding for making this event possible.
A key aspect of the picnic for Children's Health Scotland was to integrate health-related play activities. More than just a chance to have fun, the charity advocates for this type of play that can help children and young people physically, mentally, and emotionally.
Health-related play together with meaningful human connections are vital for the health and wellbeing of children and young people,
added Michelle Wilson, Head of the Children and Young People Health and Wellbeing Services at Children's Health Scotland.
We include this type of play and healthcare rights information in our activities and programmes, and I was really proud at the picnic when our children and young people signed their support of our #myhealthmyrights campaign, to be launched later this year.  The campaign supports the right of every child and young person to the best possible health whilst encouraging everyone to talk about their health, feelings, and rights and become healthcare rights aware.
All children and young people under the age of 18 have rights. The United Nations Convention on the Rights of the Child (UNCRC) sets out the 42 rights that all children and young people are entitled to. Article 24 talks about young people's rights in relation to healthcare. The #myhealthmyrights campaign, to be officially launched by Children's Health Scotland later this year supports the right of every child and young person to the best possible health whilst encouraging everyone to become more health rights aware.
Children's Health Scotland would like to thank all those who made Bear's Royal Picnic possible including special thanks to:
Friends of Starbank Park https://friendsofstarbankpark.org/
Broadcroft Hotel https://www.broadcrofthotel.com/
Field and Lawn https://fieldandlawn.com/
BiBi's cakes https://bibisbakery.co.uk/
For more information on Children's Health Scotland and the services they provide please visit www.childrenshealthscotland.org.