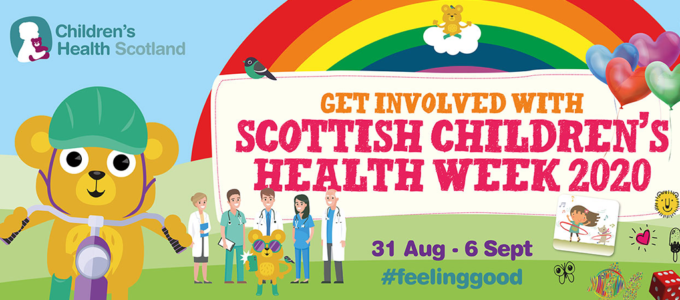 Next week we will be celebrating the first ever Scottish Children's Health Week – a whole week dedicated to focusing on the health and wellbeing of children and young people and their right to the best possible health. We have created a FREE downloadable Activity Book, jammed full of games and activities to get children, along with their carers and families, thinking about their health and #feelinggood!
In addition to the Activity Book, we will be launching a social media campaign on our Twitter (@ChildHealthScot) and Facebook (@ChildrensHealthScotland) pages, using the #feelinggood tagline, so that you can follow our daily posts as the week unfolds!
A key focus of this week is the inaugural Scottish Children's Health Awards 2020, and each morning we will be unveiling a winner on our website and social media platforms. These individuals were nominated for the incredible work they do in caring and supporting children and young people with health conditions.
The finale for Scottish Children's Health Week will come at the weekend when we announce the winners of the two Young Achievers Awards – celebrating the enormous courage and strength of two young individuals.  These winners will be announced alongside activities and videos from our staff and partners to celebrate the theme of each day. The themes (and their accompanying daily hashtags), encourage followers to engage in the variety of resources we have created for the week to improve their mental and physical health and wellbeing.
Scottish Children's Health Week 2020 is going to be great opportunity to find out more about the important services that we provide, and we will be posting interviews and stories from children, young people, parents and carers about their experiences of being a part of the Children's Health Scotland community. We also have some special guests joining us throughout the week so make sure you join us to find out more.
We are really excited to share all the hard work we put into our services and hope that you will follow along throughout Scottish Children's Health Week 2020 to get yourself #feelinggood!