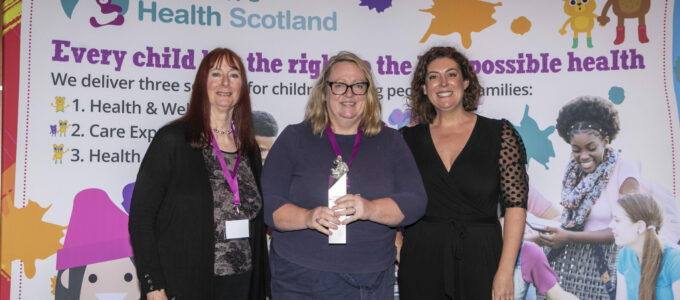 Laura Stewart is a Children's Rights Officer for Aberdeenshire Council and works with care experienced children and young people. She often says that she has the best job in the world. "I love it. We are a small team who work alongside children and young people ensuring they know about their rights and that adults uphold these rights."
"The UNCRC guides everything I do. Care experienced young people have to attend an awful lot of meetings where adults make decisions that have a huge impact on their lives. These children's lives can be full of change and their rights are at the heart of how I provide support so that they have as much control over the relationship." 
Laura regularly visits Troup House residential children's home and school as part of her role and works with the young people there to help their voices be heard when it comes to making decisions about their lives.  
"I help facilitate our fabulous YPOC group (Young People's Organising and Campaigning group). We meet monthly and this group is run by and for care-experienced young people aged 12 and up. They want to use their own experience to make things better for others and seeing them grow in confidence is just fantastic." 
Laura says children's rights are really taking centre stage in Scotland right now and it's an exciting time to be part of those changes. "The YPOC group has been hugely influential within the council and also Scotland-wide as its campaigns have reached the Scottish Parliament, Universities and other Councils. The influence the group has had is very wide-reaching and I am very proud to have played my part in this." 
It was actually Jennifer McGregor, Manager at Troup House who nominated Laura for the award. She said: "Laura goes above and beyond supporting the children at Troup House. She not only calls but visits to build stronger relationships with the children and has been amazing finding ways to communicate with some of our more complex children. She uses visuals in her person-centred planning work, computer aids and drawing to allow children to discuss and express needs and wishes. Once Laura has the information, she either advocates on the child's behalf or supports them during meetings. She has a special way of individualising what she does to accommodate and support the needs of individual children and will fight on their behalf when needed. The children all spend time with Laura, even those who struggle to accept help, which is mainly due to her approachable personality and fun-loving nature." 
Winning the Healthcare Rights Award, says Laura, is a reflection of the team she works with. "I work in such a supportive team with a fantastic admin worker who keeps us all right and such amazing and skilled and knowledgeable colleagues and boss. My boss has been a Children's Rights Officer for over 20 years, and she has shared her learning with me and the team with such patience and enthusiasm and grit. And – the biggest shout out to the children I work with – I do feel very privileged that they want me to be part of their lives, to be right by their side so that we can improve things. For adults to see that if you get to know children, really listen to them, so that they can take part in decision-making, the world is a better place for everyone." 
On choosing their winner, the judges commented that: "We believe it is rare for a Council to fund such a job position as a Children's Rights Officer, so a big well done to Aberdeenshire Council. However, having the position is one thing, having the right person is something completely different. Laura seems to be exactly that! Her flexible style comes through as she adapts to reach every child, and we are hugely impressed with her work." 
Congratulations Laura on winning the Healthcare Rights Award.