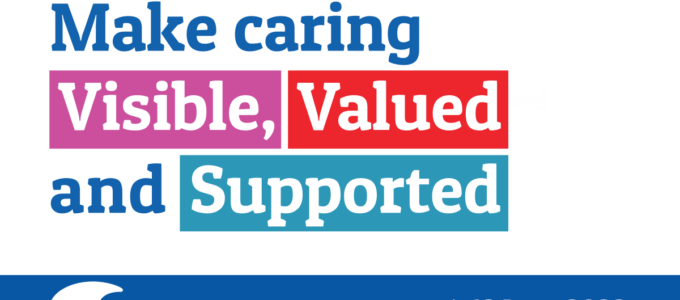 Carers Week 2022 takes place on 6 – 12 June. It's an annual opportunity to raise awareness of caring, highlight the challenges unpaid carers face and recognise the contribution they make to families and communities throughout the UK. Children's Health Scotland fully supports #CarersWeek2022.
The Carers Week website states: "The theme for Carers Week 2022 is 'Make caring visible, valued and supported'. We believe that unpaid carers and the challenges of caring should be recognised in all areas of life, caring should be valued and respected by everyone in our society, and carers should have access to the information and support they need, where and when they need it."
Of great importance during this week is the call for the government to develop a Recovery and Respite Plan for unpaid carers, so that all carers can get support. The past two and a half years have been very intense and stressful for carers, and a government mandated plan is essential to ensure that carers can recovery and stay healthy. If you are a carer and would like to contribute your voice and experience to this campaign, then follow this link and add your story to the thousands of others who are already calling for change.
The Carers Week website has tons of resources available to download to help plan your activities and also to support you as a carer in getting support. As carers, it can be hard to find time to relax and look after your own wellbeing when looking after someone else. That's why the focus of Carers Week isn't just to create activities which provide information, but also to let carers come together to feel less isolated. Check out this Inspiration Guide on the Carers Week website for some guidance and ideas for how you can get involved.
Children's Health Scotland is continuously running in-person and online workshops for carers to offer guidance and support on a range of topics which are pertinent to carer's lives. We have many workshops on offer, including two during Carer's Week:
ONLINE WORKSHOP, "Health-related Play", on 7th June at 9.30-13.30
At some point in their lives, all children have to undergo dental and medical treatment, even if it is just immunisation and jabs! This can be more difficult for children with additional needs or those who are care experienced. The workshop will explore why it is so important for care-experienced children to be helped with health interventions. If you are a Fifie Foster carer and would like to join, please contact Pauline Stibbards-chaplin at pauline.stibbards-chaplin@fife.gov.uk
Online Workshop with The Fostering Network – "Loss and Change" on next Thursday, 9th June at 10am – 2pm.
This workshop was in such great demand from earlier this year that we had to create a waiting list! Participants will explore what loss means for foster carers and the children who they care for. The workshop examines many facets to loss and helps participants explore various strategies to help everyone cope. To join please email Bethany Shelton at the Fostering Network – Bethany.Shelton@Fostering.Net
If you would like to stay up to date on the events Children's Health Scotland runs, then follow us on Facebook at Twitter where we will keep you updated on our events and how to sign up.