Today we're delighted to unveil NHS Fife Development Worker Tara Irvin as a winner of a Scottish Children's Health Award.  Tara has won the Healthcare Rights Award and her story is captured below by journalist and TV presenter Catriona Shearer.
The Scottish Children's Health Awards have been created to celebrate courageous children and those who are making a difference to the health and wellbeing of children and young people in Scotland.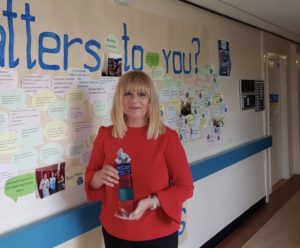 Tara Irvin has worked in nursing for over three decades. The experience, knowledge and skills she's gained throughout the years in community roles – in School Nursing and then in Health Improvement – have proved invaluable in her current job as Young People's Health Development Worker at NHS Fife.
As a passionate champion of Children's Rights, Tara says her role is quite unique in that it allows her to engage with children and young people, keeping them at the centre of service developments and projects. "Working directly within Children's Services has allowed me to support colleagues, promoting the rights of children, young people and their parents and carers, recognising that they should be central to our assessments, interventions and planning".
The Healthcare Rights Award celebrates the extraordinary steps taken by a practitioner to advance the healthcare rights of children and young people – and it's Tara's tireless work to advocate for children's rights that led to colleague Jennifer Grant (NHS Fife School Nursing) nominating her. "Tara is always striving to ensure the rights of children – and their voices – are paramount in everything she does. For many years she's worked to facilitate and develop services for young people that are inclusive, current, evidence-based and person-centred."
Tara has been instrumental in advising on and supporting a number of services, including Sexual Health community drop-in (The Hub), School Nursing Health Zone line, School Nursing NearMe contacts, and School Nursing promotional materials to name but a few. She's also been key in the 'What Matters To You?' national campaign helping create a School Nursing Charter.
"Tara never loses sight of keeping the child or young person as the focus of her work," says Jennifer, and has fought to assure that children and young people's rights are being fully represented within an interagency context by advocating for the services to always ensure that they have engagement and participation with those they serve as a central focus. Tara absolutely represents as a change agent and champion for our children and young people in Fife."
Tara says winning the Healthcare Rights Award was a lovely surprise and, while delighted at the accolade, says it's not just down to her. "I'm very lucky to have both a very supportive management team and colleagues like Jen, who are also champions of Children's rights. I couldn't do the work I do without any of them, or the children and young people I have the pleasure of working with. I feel this reward isn't just for me, it is for everyone within Community Children's Services.
Congratulations Tara on winning the Healthcare Rights Award.