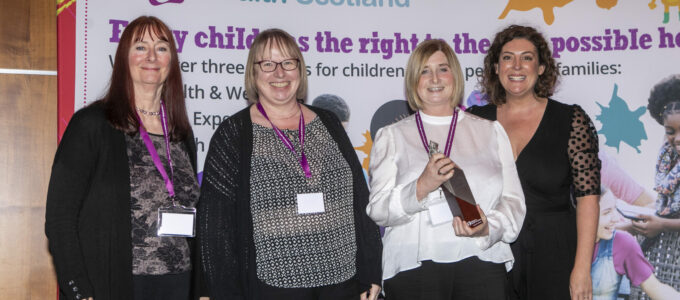 The Improving Life Experiences Award recognises the commitment and expertise of those who have made a significant difference to improving life experiences of a child or young person. The judges of the Scottish Children's Health Awards were looking for nominees who have made a difference to the confidence and resilience of a child or young person, to help them deal with difficulties. And they found that the NHS Fife Specialist Palliative Care (Children and Families Service)
team did just that.
The team provides early intervention and support for parents and carers preparing themselves and their children for advanced disease, death, and bereavement.  This is enabled and supported through close working relationships with oncology teams, ICU and the Maggie's Centre. The COVID-19 pandemic presented challenges, but it also provided opportunities in their provision of services; using virtual clinics, "drive-by" consultations, garden visits and outdoor groups. 
The team said: "Children and young people were telling us they felt more isolated and struggled with their wellbeing, but that they were also often more comfortable with the control offered by virtual sessions.  The outdoor work we undertake has also appealed to many. And partnerships have been formed with the third sector to move our services outdoors and develop group choices. The family resilience programme, parents' groups and teen groups have all moved outdoors and we intend to continue with this arrangement." 
"We're a very close-knit team who share a strong value base. We feel passionately about the support we can offer and feel strongly that children and young people need help to make sense of their experience and share their naturally occurring questions, worries and emotions." 
Parent, Rona Wood, nominated the team for the award. She said: "The team has been available to us since the death of my husband in October 2021. They have offered sessions not only to me but also my two children. COVID-19 has had a devastating impact on our family, and they have been there to support us in any way they can. Whilst COVID-19 was previously not within their remit, they pushed boundaries to allow us to benefit from their understanding, knowledge, and experience. When our lives have felt to be out of control, they have helped us with respect, compassion and understanding and shown that there is hope for the future. 
On selecting their winner, the judges said they admired the way the team had pushed the boundaries of their roles to help a family deal with the death of their husband and father from COVID-19, which was not previously within their remit. The judges said: "This award is a reminder of the importance of mental health and to hear about the difference the team has made to this family is a great example of the importance of this type of work." 
The team say they would like to use this award to strengthen their links with their partner agencies and to strengthen and improve the support they can offer. With true modesty, they hadn't imagined they would be nominated. "We weren't aware we'd been nominated for this award, so it came as something of a surprise. However, we are delighted to have been nominated, and more importantly, to receive this award. We'd like to continue to offer our services and support to a larger population within Fife." 
Congratulations to NHS Fife Specialist Palliative Care (Children and Families Service) team on winning the Improving Life Experiences Award. Thank you for making a difference.