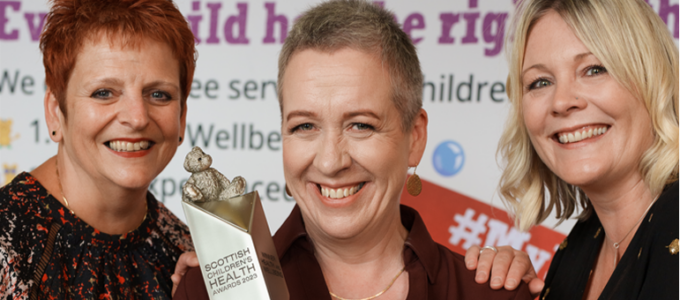 Children are precious and so are their health and wellbeing. When parents leave their children in the care of practitioners, they also hand over responsibility for their health and wellbeing. The Health and Wellbeing Award recognises an individual or team who has made a difference to the health and wellbeing of a child or young person. This could have been achieved in school, at hospital or in the community through treatment or advocacy. Our winner is Lisa Fisher.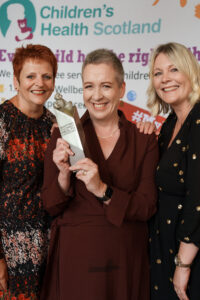 Lisa is the Nurse Team Leader of the Pupil Support Nursing Team at NHS Fife. It's a dedicated team of staff who work in special schools in Fife. They provide on-site nursing care and support to children – all of whom have neurodevelopmental issues, including physical and/or developmental issues and communication difficulties.
Phyllis Davidson, an Advanced Paediatric Nurse Practitioner in the Community Child Health Team at NHS Fife nominated Lisa. "Lisa is very supportive of her team and really motivates them. The team are like 'second mums' to the children and the care they provide is second to none," she says.
"Parents can feel confident their children are safe in the hands of the Pupil Support Nurses whilst they're in school and I feel they should be recognised for their role in helping the children reach their full potential."
Phyllis says that under the supervision of Lisa, the Pupil Support Nurses provide an excellent service not only supporting the children, but the Educational Pupil Support Assistants (PSAs) and class teachers. "The school staff are supported, indeed enabled, to provide safe, effective care and promote the health of the children in their classrooms. I believe the nurses should be recognised for all they do to support all staff caring for the children in school."
Winning the Health and Wellbeing Award is surely a step towards that recognition.
On choosing the winner for this award the judges said: "Our winner showcases a great example of vital work carried out in the background, which is massively important and impactful to those individuals and families which she supports. The idea of our winner being "a second mum" also comes through strongly, and her ability to wear several hats beyond her core role is really impressive."
Congratulations to Lisa Fisher.