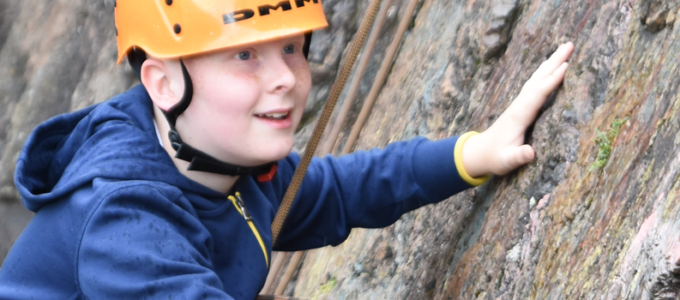 The latest Autumn 2019 edition of our Children's Health Scotland Magazine is now available to view online.  The magazine is packed full of articles and features that focus on the healthcare needs and rights of children and young people.
Key highlights include:
CLIMBING HIGH
Recently a group of our 10-12 year olds attending our Self-Management Service had the opportunity to take part in a climbing day at Blackford Quarry. Our young people are used to encountering challenges, but for many standing at the base of a sheer rock wall with a climbing rope in their hands was a completely different type of challenge.
WORKING TOGETHER
Our views on how best to incorporate the UN's 'gold' standard for children's rights into Scots law and improve the lives of children and young people has now been submitted.  Read more about our submission and how we have worked in partnership with Together and Youthlink Scotland.
PREPARING FOR HOSPITAL
Starrie is a primary two pupil at Ardler Primary School. Following a GP appointment, it was evident that Starrie would need a hospital appointment to treat an issue with her eye and mum was keen to gain some additional support for her daughter.
FOETAL ALCOHOL SPECTRUM DISORDER (FASD)
Children's Health Scotland was pleased to be involved in the development of the SIGN Guideline on FASD. This work took place over almost 18 months and the findings were used in the creation of two new documents and the Guideline.
WORKING WITH THE DIWC
This year the Dundee International Women's Centre (DIWC) invited Michelle Wilson, our Tayside Officer, to one of their meetings to talk about what we do and to find out more about our Health Play Boxes. We have now delivered four children's health and wellbeing workshops. To find out more about our work in Tayside and these workshops.
THE FLAMINGO STUDY
A group of researchers and professionals from across Scotland, including Simita from Children's Health Scotland, have come together to work on the FLAMINGO study. In our latest magazine Professor Steve Turner of Royal Aberdeen Children's Hospital tells us a bit more about this research project.