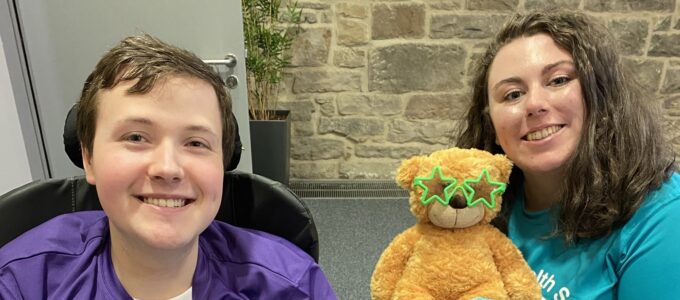 To read the Summer 2022 magazine, CLICK HERE!
Our CHS Summer 2022 magazine, which is packed full of great news and features, is now available to download or view online. In this edition, we feature the much-anticipated return of the Scottish Children's Health Awards for 2022! There are seven awards once again, including the newly created Lifetime Achievement Award. If you know a child who deserves some special recognition for the great determination they have shown when it might have been so much easier to give up, or a health professional/team whose work is inspirational then please go online and ENTER NOW. The awards are easy to enter and FREE.
On Pages 18 and 19, we celebrate our young volunteers for Volunteers Week 2022. Beau has just started volunteering for Children's Health Scotland. He has recently left school and is looking forward to starting college with the hope of eventually doing photography. Not long ago, Beau participated in our SMS:F2F Programme and has now decided to volunteer to help future participants in the programme. You can read more of Beau's story inside the Summer magazine.
We continue to highlight our My Health, My Rights Conference, which will be an extravaganza of ideas, workshops, and exhibitors. We have now partnered with over 20 organisation who will exhibit at the conference. You can find out who will be there on page 13! The conference will feature six workshops, and guest presentations by Dr William Bird and Dr Suzanne Zeedyk. Half of the tickets for this conference have now been sold so BOOK NOW to secure your place!
Just before lockdown Michelle Wilson, who works in our Children's Health and Wellbeing Services based in Tayside, partnered with Salma Hanif Gani, the Family Learning Project worker at the Dundee International Women's Centre (DIWC) to develop FLOURISH – a five-week Programme that looks at health, rights, responsibilities, play, and parenting. Michelle tells us more about the FLOURISH Programme and our work with the DIWC that seeks to engage, educate, and empower women from diverse ethnic and cultural backgrounds. Read more about their six exciting sessions on pages 14 and 15.
On pages 6 and 7, Vicky Wan, UNCRC Capacity Building Programme Manager for Children's Parliament, joins us to discuss how professionals can make rights real. The Children's Parliament's recent project has involved working with children from Clackmannanshire and East Lothian to explore specifically the role of the professional, and produce learning materials for continuous development. Be sure to check out these resources and find out more about the Children's Parliament's work inside this edition.
If you want to make your summer celebrations extra special, then please consider creating a fundraiser to support our work. We've got plenty of summery ideas to help you fundraising, such as cleaning up a green area near you, holding a sports tournament, and hosting an art sale. If you'd prefer something sweeter, then you can't beat making and selling some fresh lemonade! Find out more on pages 22 and 23. If you are interested in finding out more about fundraising with Children's Health Scotland, please drop Esther an email at esther.bates@childrenshealthscotland.org.
To read the Summer 2022 magazine, CLICK HERE!