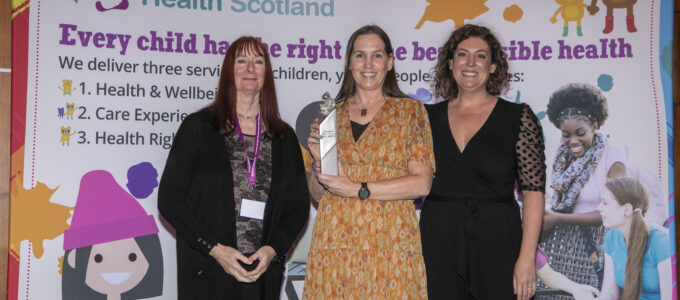 Lynn McSkimming is a play therapist working within the Paediatric Psychology and Liaison Service (PPALS) in the Royal Hospital for Children and Young People in Edinburgh. A paediatric nurse for 11 years, she decided to re-train in 2009. She works alongside the Haematology/Oncology service and receives referrals for children who require support following a cancer diagnosis.  
Talking about her work Lynn said: "I practice child-centred play therapy to offer a safe and non-intrusive space for children to express themselves.  It can often be difficult for them to verbalise how they feel and play therapy gives them a platform to do this in the way they know best.  
"The weekly sessions allow me to pull together dominant themes within their play which can help to construct a narrative.  This can be helpful in many ways, including helping the child process, understand and make sense of their journey through treatment.  It can also give insight into changing hospital approaches to help support the child during hospital admissions and it can support families to understand and manage some of their child's anxieties." 
Lynn says a joined-up working approach enables this to extend outside hospital to nurseries and school with support from the "amazing and skilled multidisciplinary team" she works alongside. The most fulfilling aspect of Lynn's job, she says, is seeing the difference play therapy can make to a child's journey through treatment, and often their overall hospital experience.  "I feel incredibly lucky to work with such an amazing and supportive team, which allows expertise in many different areas to follow on the work once play therapy has finished." 
Lynn was nominated for the award by parent Brooke Shields who said: "Lynn is an amazing person who worked a miracle with my son, Harry who is 7 years old. He has a brain tumour which over the last two years has caused him to lose almost all of his sight. Harry hated coming to his weekly chemotherapy session. He would kick off, scream, and fight, and it was a very traumatic experience for everyone involved. We were then introduced to Lynn who offered Harry play therapy sessions every week before his chemotherapy. Harry's mindset instantly changed after his sessions with Lynn. He was calmer, more confident, and ready to take on his battle. Harry adores Lynn and had so much fun at the sessions. His attitude at home changed dramatically too and he is back to being the happy boy he was.  Lynn's still there for us and we always know that she's just a phone call away." 
Winning the Health and Wellbeing Award means so much to Lynn. "I genuinely love my job, and the children and families I work alongside inspire me every day. I feel the legacy of this award would be that children sometimes need support to understand their journey through a chronic health condition and related hospital treatment.  I believe that play therapy offers this in a non-intrusive and child friendly manner, meeting the child exactly where they are at during this time." 
On selecting their winner, the judges were struck by Lynn's outstanding work and the benefit of play therapy to both child and parents. The judges said: "The description of the change in Harry, both before the chemotherapy and at home in general is a great tribute to Lynn in particular, and to play therapy in general. We agree with Brooke that she is an amazing person and a worthy winner of the Health and Wellbeing Award." 
Congratulations Lynn on winning the Health and Wellbeing Award.