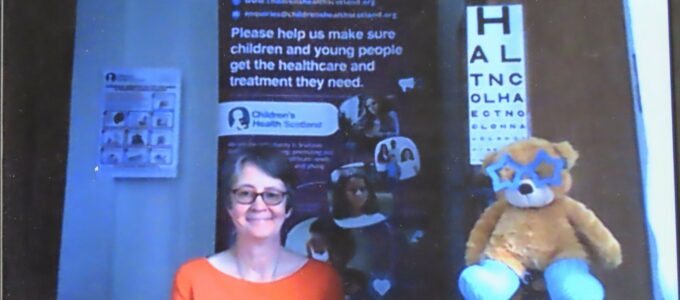 This week we hosted a virtual Health-related Play Box Workshop with children from the Primary 1b class at Battlefield Primary School in Glasgow. The workshop was packed full of fun, health-related, and educational play activities and, despite the barriers caused by lockdown restrictions, demonstrated how much children are adaptable and enjoy learning through play.
Dagmar Kerr, the Area Co-ordinator for Greater Glasgow & Clyde and the presenter of this workshop, said "The children concentrated and participated really well and showed a lot of knowledge about hospitals and doctors. They are now looking forward to having a play corner for the next couple of weeks and have promised me drawings of their own experiences."
The virtual workshop was presented using Microsoft Teams, where Ms Wilson, the teacher of the Primary 1b class, used the school iPad to allow Dagmar and the children to interact face to face. A paired resource format was used to carry out the workshop, which meant that both Dagmar and the Primary 1b class had an identical play box. As various pieces of the health-related play box equipment were introduced by Dagmar, Ms Wilson would take the same item from the same health-related play box in the classroom and give the items to the children to look at and experiment with. The children were able to ask lots of questions and were very enthusiastic participants.
Commenting on the event, Helen Forrest, Chief Executive of Children's Health Scotland said: "We know that children have the right to play as outlined in UNCRC article 31 and EACH Charter article 7.  Playing is especially important to help them explore and deal with medical experiences. We also know that at least 50% of all children will have had a hospital experience by the time they are five years old, so it is essential that they are able to access health-related play activities to start to more fully understand their right to the best possible health."
The success of this virtual Health-related Play Box Workshop demonstrates that children are inquisitive about health and wellbeing and are intrigued to learn more about how their health will be cared for by professionals, should they need it. For more information on Health-related Play Boxes and/or to book a workshop (subject to availability) visit https://www.childrenshealthscotland.org/resource/hospital-playboxes/ or telephone 01315536553.
For more resources on helping children and young people cope with hospital visits and healthcare needs, visit our resources page https://www.childrenshealthscotland.org/resources/