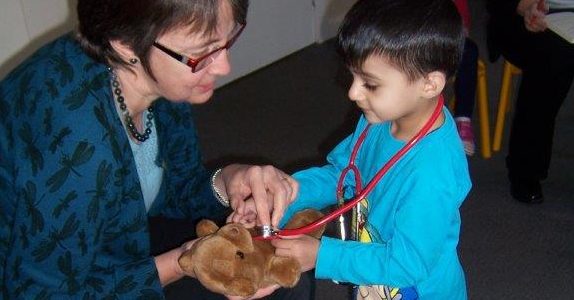 Our Area Co-ordinator, Dagmar Kerr, was closely involved with the planning and development of the Royal Hospital for Children Glasgow as a member of the Stakeholder Reference Group, sharing our expertise as a standard setting organisation. She was a member of the Community Engagement – Family and Youth Panels, working with this team on service re-design and the planning of the hospital, and meeting families and staff to discuss direct help and/or to signpost patients and their families to services.
Her work for sick children, young people and their families includes:
Feedback Comments
Children's Health Scotland's literature was great. It enabled me explain to Angus what he should expect. It also encouraged him to ask questions. I was pointed in the right direction so that I could make good use of the excellent play specialist at the hospital who gave us a lot of support. Angus felt empowered because he was allowed to make choices.
Mother of 8 year old boy who was terrified of going to hospital for surgery.
Thanks for sharing the Children's Health Scotland information and meeting report. Looks excellent. Thanks too for your support for the peer review process. It's much appreciated.
Consultant anaesthetist
Thank you – deeply useful and interesting. Provocative, challenging and good impact on my practice, I expect.
Nurse participating in a training session.
Thank you for listening and for pointing me in the right direction.
Parent
For information contact
Useful links:
NHS Greater Glasgow & Clyde Board: Royal Hospital for Children, Glasgow
Fit for the Future: Child and Maternal Health