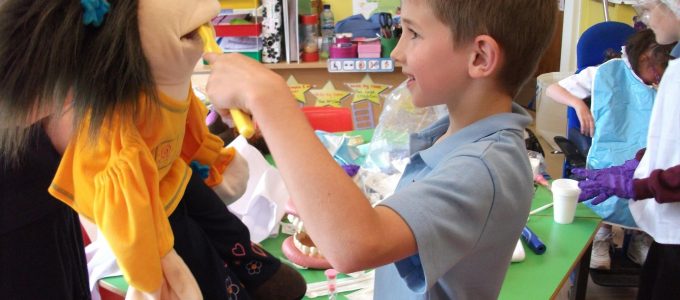 In 2007 we piloted Special Smiles dental play resources which had been developed for children and young people with additional support needs (ASN) in Tayside schools. Dundee University Dental Health Services Research Unit evaluated the work and concluded that the two year pilot had met its aims and outcomes. View the Evaluation Report here.
The project aimed to:
Improve the children's oral health understanding and practices.
Reduce the children's anxiety associated with the dental environment.
Heighten the awareness of ASN children's oral health needs amongst parents, carers and relevant professionals.
Develop the ability of teachers, parents/carers to contribute to the children's oral health needs.
We worked in close partnership with NHS professionals and the national Childsmile oral health teams. Our Project Officers trained teachers to deliver Special Smiles as part of the curriculum. They engaged with parents at school events, delivered workshops on play and supported parents. Schools received a dental playbox and two playpacks for parents/carers to use at home. These contained dental uniforms, real and toy dental equipment, books, DVDs, CDs, social stories, puppets, models of teeth, timers, toothbrushes and charts.
Between 2007 and 2016 we worked in 116 schools in 15 local authorities. Between October 2011 and December 2015 we trained 704 teachers; 1,770 children used our play resources and 691 parents were supported. Children's oral health understanding and practices improved. They learnt about foods that contain sugar and which foods cause decay, and how often and for how long they should brush their teeth. More now attend the dentist twice a year and the number 'worried' by the dentist decreased; 97% of teachers and 93% of parents reported that they had an increased ability to contribute to the children's oral health needs.
In 2015 Special Smiles won the Patron Prize at the National Oral Health Improvement Group Awards for our work in Lanarkshire in 2013-14. It was runner up in the International Association of Paediatric Dentistry Congress Bright Smiles Bright Futures competition in July 2015.
Some examples of comments we received:
'The Project Officer has been a fantastic support to the children, staff and parents in the Time Zone at Maddiston. Staff all felt that the training she provided was very practical and many of them have gone on to use the resources and suggested fun activities, with individual children and small groups. Some children, who had visits to the dentist coming up, had individual preparation work which helped to relieve their anxieties.
The daily tooth brushing that we do in school has been enhanced by the resource and extra time given to activities related to dental health. The additional support needs of our children are complex and staff were able to adapt and use the resource in a variety of different ways e.g. sensory stories, role play, experiments, watching DVD and engaging in follow up activities, play-doh, Makaton signing etc.' Depute Head Teacher, Maddiston Primary, Falkirk
'One child in particular has now successfully attended the dentist for proper check-up and polish. We are now working towards a filling which is required due to lack of dental input previous to the programme.' Principal Teacher, Firpark School
'Two quieter, more introverted children found their voice through specific roles using Special Smiles resources.' Teacher: Easter Carmuirs Primary
'Michael thoroughly enjoyed playing with the pack and loved the role play of being a dentist along with his sister. This pack has helped Michael as he is more enthusiastic when brushing his teeth and more confident in going to the dentist. I had a really hard time with him before this, with getting him to brush his teeth and also to get him to behave at the dentist.
Since using the playpack Michael has improved in his behaviour and is much better. Two adults are no longer needed to take him to the dentist. Since using the playpack I have taken him myself and he no longer displays stress.' Parent
'Lee was very anxious before going into the surgery but he had dressed up in the dental uniform from the playpack and once there he became very excited.  He was so much better at sitting in the chair than before when he didn't like the noise or the lights and he would refuse to sit in the chair. 
As he had practised at home with the tools in the playpack, he understood what to expect at the dentist and he was much improved.  The dentist was able to check his teeth and he co-operated really well.  I am so happy that I have the playpack at home and my son is now less anxious about having dental treatment.' Parent
'Thank you – my child will go to the dentist and sit on the chair. She hasn't done that in years! Parent, Lanarkshire