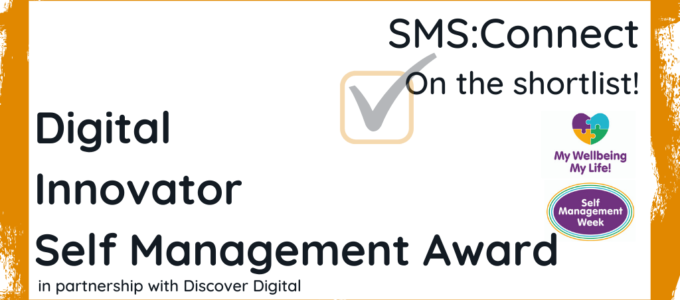 We are delighted to announce that our SMS:CONNECT Programme has been shortlisted for the Digital Innovator Self-Management Award – a national award that is organised by The Health and Social Care Alliance Scotland (the ALLIANCE).  Winners will be announced during the ALLIANCE Self-Management Week on Wednesday 27 September.
Helen Forrest, Chief Executive of Children's Health Scotland said: "It is a great honour to have one of our new digital services which we provide for children and young people shortlisted for a national award.
"I am so incredibly proud of the SMS:CONNECT team in rising to the challenge presented by COVID-19 and developing a hugely successful programme that will now continue long-term.
"Our move to digital delivery was developed in consultation with children and young people. This development work has now also allowed us to provide long-term online support through our SMS:HUB.  The HUB has now become a safe place for children and young people to stay in touch and access resources that that they can refer back to when needed.
"We are overjoyed by the positive feedback we have received from the children and young people who have so far participated in SMS:CONNECT programme and our HUB and now very proud to be recognised as a Digital Innovator within self-management services in Scotland."
The Digital Innovator Award recognises those who have found innovative ways of helping people self-manage using digital technology.  It is one of seven awards that will be announced at a digital Awards Ceremony on Wednesday 29 September from 6:00 – 7:30pm. This ceremony will take place midway through the ALLIANCE's Self-Management Week.
Visit the ALLIANCE's website for more information on the Self-Management Awards and shortlisted nominees.
For more information about SMS:CONNECT and for personal and professional referral forms, visit https://www.childrenshealthscotland.org/service/smsconnect/