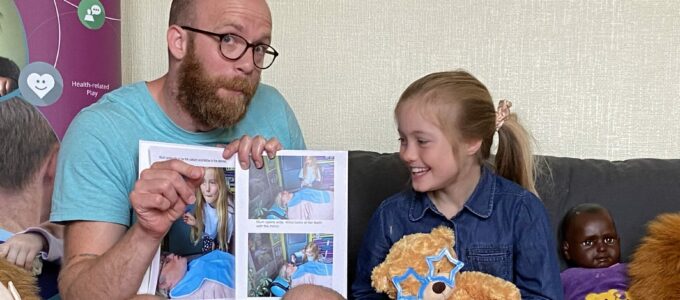 February is National Children's Dental Health Month, so we would like to celebrate by highlighting some of our work helping children and young people at the dentist. Going to the dentist can be a difficult time for many children and young people. It may be scary to enter a new environment with unfamiliar people and uncomfortable medical procedures. As adults, we understand that going to the dentist is an essential part of taking care of your health, however this may be harder for a child to understand.
To help children cope better with going to the dentist, Children's Health Scotland provides resources and training for children, young people, parents and carers, and professionals. Recently, we worked with Millie, a young person who used to be worried about going to the dentist. Dagmar Kerr, our Coordinator based in Glasgow, helped Millie with understanding her rights to play, to be informed, and to participate in decision making by engaging directly with Millie and through health-related play with our Dental Play Box. She then visited a dental practice with very understanding dental staff who gave her control and respect in exploring everything.
Using Millie's experience and photos, we created Millie Goes To The Dentist, a photo book and story which recounts the event. Millie's book was then made into a #StoryWithRory, where Rory and Millie read the book together. This video was shared on #BEHAPPY Thursday of Scottish Children's Health Week 2021. A special thanks to Rory and Millie for reading the story for us!
Dagmar Kerr, Area Co-ordinator for Greater Glasgow & Clyde, said: "we are so proud of Millie for overcoming her worries about going to the dentist. Her bravery will help other worried children and young people to cope with going to the dentist as a copy of Millie Goes To The Dentist now has a permanent home in B Smile Studios for others to read if they are worried. Even today, Millie continues to contribute to Children's Health Scotland's work as she is now the face of our new Dental Care leaflet."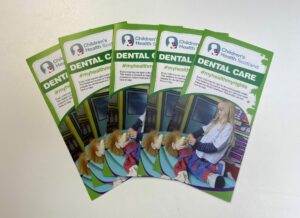 Children's Health Scotland's newly updated Dental Care leaflet contains concise and easy to read guidance on helping a child or young person on a visit to the dentist. The Dental Care leaflet is suitable for parents and carers and is available on request.
Children's Health Scotland also provides Special Smiles Dental Training for healthcare professionals aiming to learn more about a rights-based approach to dental health. Our first session since the COVID-19 lockdowns took place virtually earlier this February and was a huge success. We will be holding more Special Smiles training sessions in the future.
Thank you to Millie, her Mum, and to B Smile Studios for generously helping with this project. You can read Millie Goes To The Dentist here.. Please get in touch, if you would like help to create a story about a topic that may be difficult for your child.