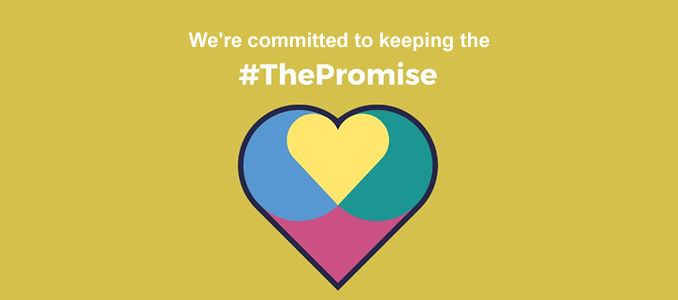 Children's Health Scotland is pleased to support the findings and recommendations of the Independent Care Review report. The Review calls for a radical overhaul of Scotland's 'care system' and publishes, for the first time, the human and economic cost of the current provision and its failures.
Commenting on the Review Helen Forrest, Chief Executive of Children's Health Scotland said:
It's time for change for our care system in Scotland and we support the findings and recommendations contained within the Independent Care Review report. We're committed to keeping the promise and we will continue to develop meaningful partnerships with organisations to ensure children and young people get the healthcare and treatment they need."
The Care Review was set up by the First Minister, Nicola Sturgeon MSP and has listened to more than 5,500 experiences. Over half of those were children and young people with experience of the 'care system', adults who have lived in care and their families.  
The in-depth examination of all aspects of care in Scotland has revealed a system that is fractured, bureaucratic and unfeeling for far too many children and families.
It also doesn't adequately value the voices and experiences of those in it. Driven by an unwavering focus on the voice of care experience, the Care Review has demanded change and the report has five foundations for this:
VOICE

: The voice of children must be heard at all stages;

 

FAMILIES:

What all families need to thrive; 

 

CARE:

That builds childhoods for children who Scotland has responsibility;

 

PEOPLE:

With a relentless focus on the importance of relationships; and 

 

SCAFFOLDING

: So that the structure is there to support children and families when needed.
Fiona Duncan, Chair of the Independent Care Review said:
I have heard countless stories of when the care system gets it wrong; separation, trauma, stigma and pain.  Too many childhoods have been lost to a system that serves its own convenience rather than those within it. This is a radical blueprint for a country that loves, nurtures and cherishes its children. This is Scotland's chance to care for its children, the way all good parents should.
First Minister Nicola Sturgeon said:
For the first time ever the voices of people with experience of the care sector have been, and will continue to be, at the heart of shaping care policy. Over 5,500 people, including care experienced individuals and their families, as well as paid and unpaid care workers, took the time to discuss their thoughts, feelings and experiences to highlight where things are going well and where we need to improve.

It is clear that despite the efforts of those within the system, the actual experience of too many people in care is not what we want it to be.

We will keep listening to and working with care experienced people because the case for transformational change is now unarguable and their voice must shape that change. We will work with them and with local authorities, care providers and others to deliver that change as quickly and as safely as possible.